With Audient and Audio-Technica joining pro audio retailer KMR Audio and audio file-sharing company Filepass, producer and mixer Kevin Paul is hosting MixBus, a series of podcasts presenting in-depth conversations with recording industry luminaries, including producers Alan Moulder, Catherine Marks and Gareth Jones.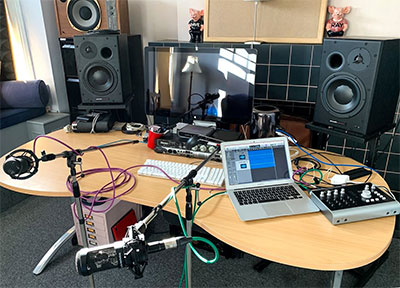 Paul explores his interviewees' careers and approach their work, capturing the interviews with a simple, portable set-up – an Audient iD44 interface, a few Audio-Technica mics and a laptop. He draws on his own 25 years' experience in the business – recording artists including David Bowie, Goldfrapp and Nick Cave – to give insight to his questions.
'It came out of listening to lots of audio production-based podcasts and realising there's little from the UK,' he says. 'I know a few people, so I called them up and amazingly they all said yes… At that point I thought I'd better get on and do this.'
And he has done just that, and is quickly attracting listeners.
Paul likes to make it easy for his guests, taking his set-up to their studio – or at least somewhere they know. 'I want them to be comfortable and get them to share their approach as much as possible,' he explains.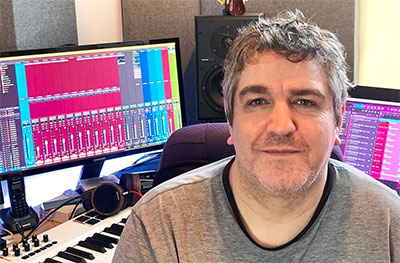 So while he's nailing his interview technique and still getting used to hearing himself on playback – 'for someone who hates the sound of his own voice, why I've decided to do this is beyond me' – the podcast recording gear itself has to be spot on and minimal fuss. The iD44 ticks all those boxes. 'The mic preamps sound great, and I love the ease of use of the whole unit. It's plug-and-go, and that's perfect for me. It takes minutes to set up. I've not had a single issue with it.'
Paul admits that starting his own podcast was a leaning experience: 'Getting it all together: hosting, making sure it's available and not to mention actually promoting the podcast has been – and still is – a huge learning curve. The interviews are the easy bit…
'I wanted to keep it as British as possible, so I contacted people who's equipment I respected and have used continuously over the years,' he continues, reminiscing about early Audient mic preamps he has used in live recording and wishing he had space for 'one of those great sounding Audient desks'.
'I've bought all my studio equipment from them Audio for years,' he continues, referring to KMR Audio. 'They have a great crew there and really help the customer with an informed choice. In my opinion they're the best independent pro audio retailer in Europe.'
His industry knowledge and down-to-earth conversation style mean that Paul has been successful in ensuring the British theme comes through in the podcast. 'Audient to me, represents what the UK is about. Forward-thinking products and a real understanding about what people use their equipment for.'
Several of Paul's conversations are already available to listen to either on his Podbean website or any podcast provider, with more names to come, including Flood, Pascal Gabriel and Daniel Miller. As the podcast gains momentum and interest grows, further interviewee recommendations are rolling in.