Point Source Audio is including additional windshields with its microphones to encourage higher levels of hygiene – standard packages that typically included a singe windshield now come with six at no additional charge.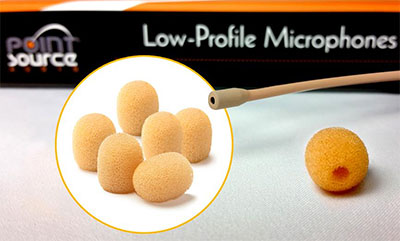 As it isn't always possible keep microphone equipment clean and exclusive to individual users, Point Source Audio is seeking to reassure users of shared systems when they using a microphone. 'While it is always important to keep your microphones clean, this is particularly important now,' says Point Source Audio VP of Sales & Marketing, Yvonne Ho. 'We hope that supplying these extra windshields will be a reminder to users on proper mic cleaning and etiquette now and into the future.'
In a further step, Point Source Audio has created a video dedicated to cleaning microphone systems, demonstrating the techniques needed to clean a microphone system using alcohol wipes.
'We have been receiving a lot of questions over the last few weeks about how to keep microphones clean and an old article we put together demonstrating this has been one of the most popular pages on our website recently,' explains Ho. 'At the moment, the best thing that anyone can do is to stop sharing microphones. However, for those who can't, we felt the best solution would be to make this demonstration video so our global family of customers can learn the best techniques for keeping safe with shared microphones.'