Italian power amplifier manufacturer Powersoft has announced new online training for its Deva outdoor multimedia unit. These will take place on 30 March 2020 at 2pm CEST and 6pm CEST, and are free to attend. Attendees can register through the Powersoft website.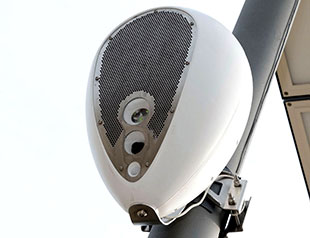 The sessions will be presented live by one of Powersoft's Deva system engineers and will focus on the features of the unit designed for safety and crowd management during emergency situations including facial recognition, crowd count, virtual fencing, SOS, and public warning messages.
Introduced in 2013, Deva is a versatile, weather-resistant IP65 multimedia unit designed to replace wired speaker systems and crowd surveillance devices in outdoor areas. Deva features a class-D amplifier and bi-directional audio, allowing it to serve as both a public address system as well as a two-way communication service. In addition to its audio features, Deva has a high-definition onboard camera and a variety of sensors, allowing it to also serve as a crowd monitoring and security device. The entire system can be easily operated over Wi-Fi by tablet, PC, and mobile phone.
'Deva is an ideal tool for instant and effective communication and enacting emergency procedures in large outdoor areas," says Powersoft Deva Sales Manager, Cosimo Cecchi. 'Given the challenging circumstances currently faced globally, we wanted to ensure that our users had access to up-to-date training on all of the ways that they can use Deva's safety and emergency management features for scenarios such as this.'