Live streaming church services to a congregation at home presents challenges with both logistics and the technology. Hiring an A/V production company offers a quick and easy solution, but many churches will choose to attempt to manage it themselves.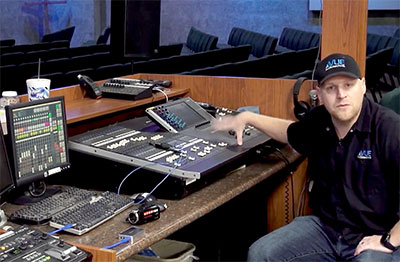 'We prepared a short video with a few tips to help as you prepare for live streaming – we may do a step-by-step follow up video later,' says Brandon Rinas, head of Vue audiotechnik Sales Development Manager for House of Worship Systems.
'Streaming involves taking both audio and video into consideration. One recommendation I have for the audio portion of your stream is to create a dedicate mix – separate from the mix heard through the church's installed speakers. Much like a recording or broadcast TV studio, a proper audio mix for streaming is best done through near field monitors. Vue's i-series full-range high-performance loudspeakers are ideal for this. The i-6a and i-8a have a small footprint, internal power amp and is easy and quick to set-up. If space is limited, Vue also offers a proprietary adaptor that allows mounting on top of a microphone stand. This enables desk space to be uncluttered while elevating the speakers to proper listening position and height. The i-6a are in-stock and ready to ship if you are serious about streaming a quality mix with your video.
'We hope this video will provide some information as you prepare to connect your church to the homes of your congregation,' Rinas offers. 'Please feel free to contact me with questions. I'm happy to point you in the direction of hardware, software or other websites to help with your streaming needs.'