Used to stage such as concerts, exhibitions, conferences and educational experiences, Latvia's Adazi Cultural Centre found itself needing a sound system beyond the capabilities of the one installed when building was commissioned in 2010. The solution sought by technical department head Maris Vitols took him to SGS Sistemas and a Clair Brothers kiTCurve12+.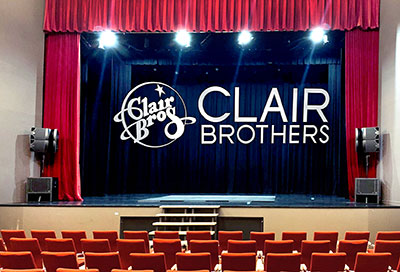 The 400-seat hall was equipped with a 12-box acoustic system that could not provide the necessary sound coverage across the hall or up in the balcony area – Vitols began researching, system solutions that would meet modern expectations and deliver the kind of sound the cultural centre could be proud of. He laso required it to be able to be moved to another room in the building or used in an open-air stage setting.
SGS Sistemas Technical Support Guntars Bluss suggested the kiTCurve12+ as the perfect answer but, before the final decision was made, Vitols requested a demo version of the kiTCurve acoustic system in the hall – where it was put to the test on a series of live events, and passed with flying colours.
The new system is more compact than the original, comprising four Clair Brothers kiTCurve12+s and two kiT-Subs. Each speaker has a built-in power amplifier that allows them to be easily moved and used separately.
kiTCurve12+ is a full-range, curved-array, high-output system using patented Clair Brothers curved array technology. It combines the capability of a curved array with the portability and versatility of the entire kiTCurve Series. Intelligibility, high-output performance and durability suit the kiTCurve12+ to a wide range of applications, indoors and out.
'Now we can finally work efficiently, with the highest level of sound quality,' Vitols says. 'This compact Clair Brothers sound system is tailored just for our premises and our needs.'
More: www.sgssistemas.lv
More: www.clairbrothers.com