The Fachbereich Translations-, Sprach- und Kulturwissenschaft (FTSK) department of translation research, linguistics and cultural studies of the Johannes-Gutenberg University of Mainz in Germersheim, is one of the world's largest and best-known training centres for interpreting and translation. Recently equipped with audio, video and media technology from Salzbrenner media, the conference rooms allow approximately 1,200 students (including those studying for a Master's Degree in conference interpreting) to hone their skills in various conference situations.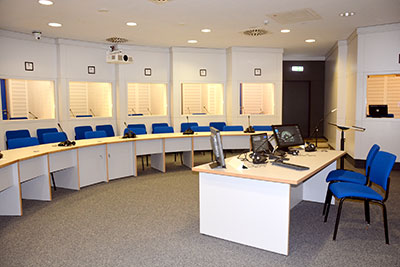 Bringing a 30-year-old technical installation up to date was complicated by a tight time-schedule, as the semester break was the only time available for major renovation. Since no planning office was involved, it was the sole responsibility of Salzbrenner media to bring the project in on schedule. Constant communication between the FTSK and Salzbrenner project teams brought appropriate solutions to unique requirements, with a strong focus on expandability, so that further rooms may later be added to the main conference room.
There are five independent interpreting rooms. Two of these offer 24 interpreter booths with two communications stations each serve teaching units and examinations, as well as weekly conferences. For this purpose, both rooms are equipped with additional communication stations making it possible to use the rooms stand-alone for teaching situations as well as interconnected for conferences and discussions.
In the first case the system is operated entirely by the lecturers via a media control system, but it is also possible to access all audio parameters from the control room via a full-fledged mixing console with a workstation for each room. In conference mode, the rooms are interconnected and the conference can be controlled fully from both mixing positions.
Recording and subsequent analysis of interpretation from the individual booths is an integral part of the interpreter training which is facilitated by various recording systems (multitrack, stereo and streaming). In teaching mode, lecturers can listen in to the individual booths during interpretation or play the signals out via the installed loudspeaker system if desired. All booths are constantly recorded for analysis in plenary session at a later time.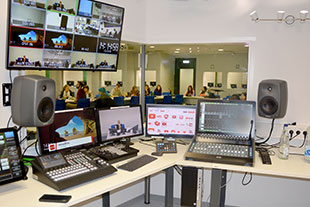 It was important to the lecturers that operation of the media technology is as accessible and intuitive as possible, even for technically unskilled people, and that the total 98 channels can be accessed without the assistance of technical personnel. The lecturers also have the option of selecting from various playback sources and adjusting the playback levels, booth recordings, microphones and 'live-booth-signals'. Video recordings for analysing students´ body language, as well as the booth signals (original and interpreted), need to be transmitted to the auditorium as an essential teaching aid.
For Friday conferences, a streaming function is required at the touch of a button as well as A/V signal transmission from the two large conference rooms to and from each other in order to simulate virtual conferences. And last but not least in examination situations any interpretation desk must be selectable while the rest are muted, in order to evaluate each student in isolation.
At the heart of the Dante audio network is a Salzbrenner media Polaris evolution mixing console system (128 inputs, 128 outputs, 64 buses), offering multi-workspace functionality for independent control of both rooms from a single console system. Corresponding channels and mixes are assigned to the workspaces via individual assignments of the respective mixer control surface.
Polaris evolution´s automation features provide separate automation groups for each workspace, which recall the necessary settings for the current scenario for each room (training, examinations in simultaneous interpreting, examinations in consecutive interpreting, conferences). This is achieved via the media control system from the lecturer´s control panel. Presets can be recalled separately for each room. With Polaris evolution the media control system has access to any desired parameter of the system. Faders, Mutes, VCA-groups, M/S groups, Mixes and Cues are controlled via the media control system in order to facilitate user-friendly operation from the lecturers´ tablet controls.
Routing changes in the Dante-network are necessitated when rooms are interconnected in conference, which are also undertaken by Polaris evolution via attached routing presets. The same applies to Dante routings that do not connect directly to or from the mixing consoles. Loading Dante presets in Dante Controller is completely eliminated, with all routings handled by the mixing console system.
'We were aware of the complexity of our requirements right from the start ', says FTSK Germersheim Project Manager, Dr Lena Skalweit. 'Salzbrenner met the ambitious time schedule and since the start of the semester we have a modern, flexible high-quality system at our disposal which meets our technical requirements entirely. Lecturers, students and technical staff are completely satisfied.'
More: www.salzbrenner.com