The Setnor School of Music at Crouse College on Syracuse University's main campus is taking a step into the future with three Rupert Neve Designs RMP-D8 Dante-connected microphone preamps and converters now providing high-quality recording capabilities to the entire campus.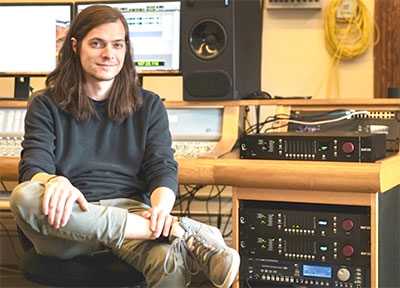 'We don't have to worry about 200 feet of analogue copper running upstairs from the closet,' says Kevin Muldoon, Recording Engineer at Setnor. 'We can run all our microphone inputs through it, and we'll have the ability to send signal to the live board, to the recording, to the stream, everything.'
Provided by Sweetwater Sound, the three RMP-D8s provide channels of class-A microphone preamplification and 192kHz, 24-bit conversion, they will be used as the school's primary microphone preamps for every application.
'The Dante system will be able to go to our entire campus network, so we can have things to go another studio off-site, we have a jazz building off in a different spot, we have our Belfer Recording Studio in a different spot,' Muldoon says. 'In the future, this will allow pretty seamless integration between all of them.'
'Over the past few years, network audio has really taken over, and we're starting to see more and more products with Dante capability,' reports Sweetwater Sound Senior Sales Engineer, Brian Loney. 'There's a real shortage though of high-end, quality pieces, certainly those of the quality of a Rupert Neve product. Any type of multi-room facility that needs to have network integration, top-shelf sound quality… the Rupert Neve RMP-D8 is the perfect solution for that.'
'Dante is the future,' Muldoon concurs. 'At a professional modern recording studio or school of music, this should be the backbone of the recording that goes on.'
More: http://rupertneve.com