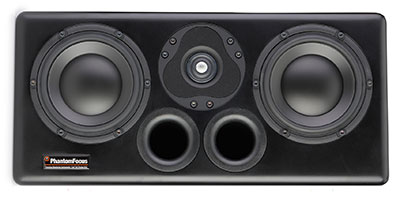 Studio designer and monitor specialist Carl Tatz and Dave Morrison, President and founder of the IsoAcoustics line of speaker isolation products, have announced the custom integration of IsoAcoustics' pistonic decoupling technology into the new PhantomFocus PFM HD-1000 and PFM UHD-1000 Professional Reference Studio Monitors from Carl Tatz Design (CTD).
'Dave and I dialogued for a couple of years about how our two companies could work together, and the new PFM 1000 Series Professional Reference Monitors are the fruit of that collaboration. We could not be happier,' comments Tatz. 'The PFM 1000 Monitors are presented by our company as the zenith of near-field monitoring, and IsoAcoustics' continuous R&D successes in the world of acoustic isolation blend perfectly with our mantra of sonic excellence.'
'We are very pleased to work with Carl to integrate IsoAcoustics into this exciting new series of monitors and be part of his mission to provide remarkable acoustic imaging and performance,' Morrison adds.
More: www.carltatzdesign.com