Having lost none of its edgy vibe from when the doors opened in 1993, Johnny Depp's Viper Room has hosted the likes of System of a Down, Tom Petty and Johnny Cash at its at 8852 Sunset Boulevard LA address. One of the oldest commercial buildings still in use on the Strip, it stands in defiance of the luxury hotel developers that have invaded the neighbourhood in recent years.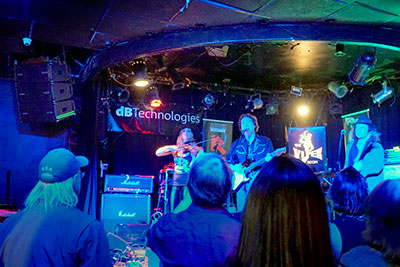 'A lot of people are saying this part of town is undergoing an identity crisis,' says General Manager, Tommy Black. 'Well, we're still as true to our origins as ever.'
Most recently, the club has installed dBTechnologies VIO L208 active line arrays to better serve its acts.
'We're a small space with high-energy acts, and our house acoustics are unique,' Black explains. 'I think that's partly because of the materials used to build this place. There's old wood in here. Local mobsters from the past like Bugsy Siegel and Mickey Cohen may well have loved this wood as much as I do. It gives the whole room the quality of a fine, vintage amp cabinet.'
Faced with the prospect of reaching the end of its last PA's useful life, the Viper Room added six VIO L208 loudspeakers to its main room. Flown in arrays of three each left and right of the stage, the L208s were installed along with compact Ingenia IG1T enclosures, which are in a downstairs lounge area. Onstage, six DVX DM 12 TH bi-amped wedges serve as a final complement to the revitalised audio blueprint.
'Now we have the best PA ever in the club's history,' says Production Manager, Tyler Kunze. 'The coverage is wider, there are no dead spots anywhere. The vocals are upfront, the intelligibility and clarity have never been better. When I'm mixing, everything comes out of the master bus clean, warm, and clear – I don't have to EQ anything.'
'Hey, he stole my quote,' Black quips. 'But he's right – I've been here 18 years and it's the best I've heard. Things have changed so much for the better that now, when I hear some of the regular acts, at first I think I'm listening to a new band that's never been here before.'
More: www.dbtechnologies.com