Confronted with weeks of forced isolation and social distancing from clients and friends, Northstar's Bert van der Wolf has taken up a long overdue personal challenge – mixing and mastering recordings that were produced in native Auro-3D for the Spirit of Turtle music platform and eventual worldwide distribution.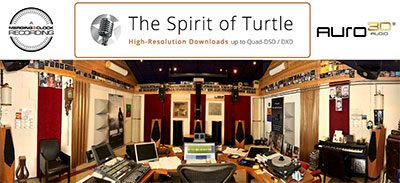 All 50 or so of these productions were made with the proprietary HQMM principle (High Quality Musical Mastering), Boundary Layer - Microphone - Matrix Technique.
'For years these versions of the recordings have been slumbering in the archive, waiting to be woken up and listened to for the first time in 9.1 Auro-3D at the highest resolution (DXD) featuring state of the art monitoring equipment [Merging Technolgies NADAC+Power+Clock, Avalon Acoustics and Spectral Audio],' he says. ' It makes this troubling period for all mankind a lot more bearable for me personally and the recordings prove to be a treasure chest I have been sitting on for way too long – I had no idea of their true value until now.
'So far, it has been an overwhelming and mind-blowing discovery, what can be done in Auro-3D – and I have had several examples,' he continues. 'For the first time in my 30-plus year career, I've had moments, when closing my eyes, to not be able to distinguish the recorded result from the real event at the recording site itself. It is truly remarkable how this whole playback system of ten large loudspeakers can vanish into thin air here in my Northstar studio. What is left is pure musical enjoyment with a staggering panoramic image over the whole spectrum of width, depth and height and with amazing colours, dynamics and directional information.
'I had expected something exciting, knowing my recordings in 5.1 well, but these results exceed my wildest imagination and I can hardly believe what the chain, from microphones to loudspeakers, is capable of at this moment.'