UK TiMax developer Out Board have announced a Spring season of 'One-on-One for One' online training sessions with TiMax specialists in the UK and US for anyone interested in developing skills in the use of TiMax immersive audio, spatial mixing and showcontrol.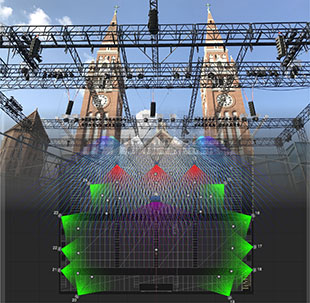 Sessions are open to all sound designers, sound engineers and production sound techs worldwide on a first-come, first-served basis. Register to download TiMax SoundHub software (Mac or Windows) from the Out Board website and enter '1on1' into the About You section. Alternatively contact Out Board directly.
Out Board will respond with an invitation to select an available time and date for a personal, one-on-one, one-hour Skype screen-share training session, with Dave Haydon or Robin Whittaker in the UK (GMT) or Duncan Crundwell in the US (EST).
The session will cover standard TiMax DSP functions of mixer, matrix, EQ, delay, source/zone groups and snapshots, as well as advanced task-based spatial rendering and immersive showcontrol programming tools in the uniquely integrated TiMax PanSpace and cue-driven TimeLine workflows.
The session will also introduce the new TiMax TrackerD4 precision stagetracking interface, which controls TiMax SoundHub via OSC. There will also be a look at programming touchscreen OSC control of levels, cue/snapshot recall and spatialisation processes on generic tablet apps such as TouchOSC and Lemur.
More: www.outboard.co.uk