With the Coronavirus pandemic causing music festival cancelations or postponements on a daily basis, the economic strain impacts the performing artists, event organisers and the teams involved in staging them, and also on anyone with flights, hotels and festival tickets already booked. To help everyone stay on top of things, Slovenia-based music data company Viberate has launched a comprehensive online list that is updated daily.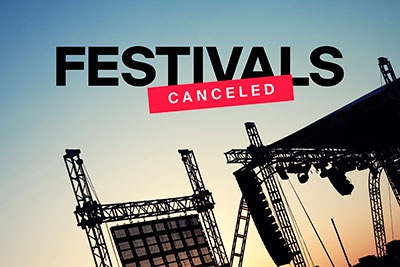 The Sick Festivals service monitors around 5,000 festivals worldwide and advises which are cancelled or postponed. The data is sourced from Viberate's global database of artists, venues, events and festivals. Currently, the company has listed more than 200 cancelled and 250 postponed festivals.
The idea for Sick Festivals came when one of the start-up's founders, techno DJ UMEK, began receiving an avalanche of show cancellations: 'Just a week ago, I played on the Resistance stage at Ultra in Melbourne and Sydney – nothing seemed out of the ordinary,' he says. 'When I landed back home and turned my phone on, most of my upcoming gigs had already disappeared from my calendar. That was when I realised how serious this outbreak had become in a matter of days. It feels eerily dystopian.
'Now it's up to us to do whatever we can to manage the damage. At Viberate, we quickly put together a service that we hope will help people see what's going on with the festival they had been planning to visit, and shed a light onto the industry professionals' income loss, which is no laughing matter.'
More: www.sickfestivals.com