Touring his Grammy Best Rap Album Igor, American rapper, singer, songwriter, record producer, designer and music video director Tyler, the Creator is accompanied by monitor engineer Christian 'Murph' Murphy (Run The Jewels, Mike Posner) and Waves Audio's eMotion LV1 Live Mixer and accompanying plug-ins.
Murphy runs the Waves eMotion LV1 software mixer on a Waves Axis Onecomputer custom-designed and optimised to run Waves audio applications. His set-up also includes a Waves SoundGrid Extreme Server-C and a SoundStudio STG-1608 all connected by a Netgear GS108 switch, two Dell P2418HT touchscreens, and an Icon Platform M Controller with an Icon D2 display. 'Everything but the controller is placed in a slick OCD Labs LV1 LiteFly case,' Murphy says, 'with the entire system weighing only about 65lbs.'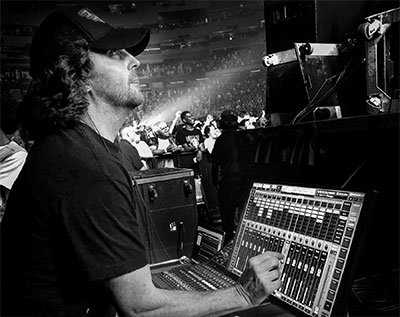 'I was looking for a flexible flyable rig under 70 lbs,' he explains. 'I had been using Waves on other desks and in the studio for a while. Since I was already integrated into the Waves universe, I thought using eMotion LV1 would be a good solution.'
Waves plug-ins are a big part of Tyler, the Creator's live sound:. 'First of all, I use Dorrough meters on everything,' Murphy says. 'They are beautiful as well as accurate – a lovely way to start your rack. I place the Primary Source Expander plug-in on all vocal mics to reduce the crowd noise: it's probably my favourite gate, and I love the simple layout and controls. It also does an excellent job of eliminating feedback. On Tyler's vocal I use Waves' Abbey Road Reverb Plates and H-Delay and have recently been playing with Waves' new MDMX Distortion Modules using the Fuzz. Tyler and I sat down, played together with the parameters, and came up with something pretty badass in a matter of seconds. I can't wait to spend more time with the MDMX plug-ins. I also use the Waves GEQ Graphic Equalizer, liking the RTA component and using the plug-in's Classic component on the outputs that go to speakers.
'One of my main considerations choosing the LV1 was that I love how portable this system is – the entire system fits in a Pelican 1637 Air Case, except the I/O which I have in one other case… It's so simple that I take it on all my fly dates. Space is always a consideration, especially in a festival scenario, so the minimal footprint of my eMotion LV1 is absolutely crucial. 'All I have to do is plug in one Ethernet cable, and I'm ready to rock.
'I also love how easy it is to customise the LV1,' Murphy adds. 'You can change the order of the plug-ins in your rack, or slide around channels in a custom mixer layer with the swipe of a finger. I like the user-assignable keys to turn plug-ins on and off, or switch between A and B inputs for virtual soundcheck. I am also happy that Waves added a tap tempo button to the top of the main screen.'
The importance of portability and flexibility are matched by that of sound quality: 'Everyone I've ever talked to loves how the LV1 sounds,' Murphy reports. 'It's a super-tight sound: I just set the gain, turn up the fader and boom – a warm and punchy vibe before I even touch the EQ.'
More: www.waves.com