Carl Tatz Design (CTD) recently installed a PhantomFocus PFM UHD-1000 Professional Near-Field Reference Monitor in Nashville's famous Blue Grotto Sound, a PhantomFocus MixRoom Studio.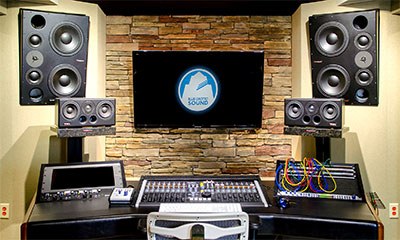 The premium 500W bi-amplified, all-ScanSpeak-drivered offering from the PhantomFocus line of Precision Monitoring Instruments represents the flagship performance CTD close-field monitoring. 'You can not imagine what a powerful tool this is when recording and especially mixing,' says engineer/producer and Blue Grotto Sound owner, Sean Spence.
Located in Brentwood, Tennessee, 20 minutes from downtown Nashville, the facility provides recording, mixing and mastering, as well as production services. Its control room was designed by Carl Tatz, and is centred on a Solid State Logic Nucleus/Pro Tools HD2 recording system with Apogee Symphony I/O with 16X16 analogue I/O and Digidesign 192 I/O. An extensive outboard collection includes pieces from API, Focusrite, SSL, JoeMeek, Great River and Universal Audio, with mics from the ikes of Neumann, sE Electronics, Røde, AKG and Audio-Technica.
'The imaging is astounding, rendering the UHD-1000s to be engaging and inspiring,' Spence says. 'In this business, time is truly money and these monitors make my work so much quicker and easier – mixes come together faster and sound better, I can dial in sounds while tracking with that much more precision and, particularly important, clients are inspired when they hear them. You can't ask for more.'