Part of a ten-year HD network upgrade programme being undertaken at the All-Russia State Television & Radio Broadcasting Company (VGTRK), 30 regional television studios are being equipped with Calrec Brio36 audio consoles. The project was managed by systems integrator OKNO-TV.
The studios are part of a huge network of more than 80 television centres that are located at regional capitals and produce a wide range of content including news and entertainment programming, often both in Russian and the local regional language. 'The challenge was that we needed an audio console that would work seamlessly across different stations with varying needs over a wide territory,' says Ilya Lebedev, Chief of Regional TV systems Department at VGTRK.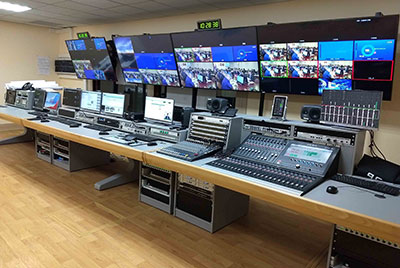 'We had known of Calrec's good reputation, and our integration partner, OKNO-TV, suggested using the Brio console for our studio upgrades.'
Each studio is installing a Brio36 as the main console, a Br.IO Stagebox to expand the I/O capacity, along with an Allen & Heath Zed16 as the backup console. The Br.IO Stageboxes are being used for wired and wireless microphones, loudspeakers and wireless monitoring transmitters.
'The Brio is a vast improvement over what we were previously using in these studios, with superb sound quality,' Lebedev reports. 'In combination with Calrec's Br.IO Stageboxes, this expands our capabilities and gives us the flexibility and sound quality that we need across various production formats.'
VGTRK owns and operates multiple international, national and more than 80 regional TV and radio networks. This includes Russia 24, Russia's first 24/7 news channel, as well as the popular RTR-Planeta, which is VGTRK's international service that's available throughout the world via cable and satellite.
'It was a challenge to work to a single, overall technological ideology, along with common installation processes, across such a vast area and so many companies. This unity of purpose also had to be maintained across this entire project. But the results speak for themselves and enhance the viewer experience, our ultimate aim.'
'Since we launched our Brio consoles, we've seen great uptake on a global basis,' says Calrec International Sales Manager, Michael Reddick. 'The power and compact form factor, combined with ease-of-use and premium sound quality, give our customers confidence even with a project as complex as this. VGTRK's upgrade is ticking all its boxes when it comes to audio.'