Charged with implementing important health reform bills and directives across Germany, the Federal Joint Committee required a comprehensive and flexible conferencing solution for the large and small meeting and conference spaces at its new headquarters near Berlin's Tiergarten. The contract for the installation was put out to public tender and awarded to Berlin-based A/V company PIK AG, with touch technology and digital signage specialist MMT Network providing engineering plus planning services and support.
'In the process of moving to our new headquarters, we had to merge the conference facilities from the two buildings we used previously,' says Thomas Gutekunst, head of the Federal Joint Committee's administrative department. 'We decided to migrate from older analogue technology to a new digital system.'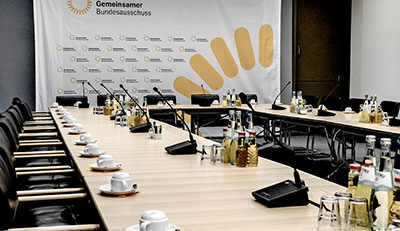 PIK selected a Shure Microflex Complete digital conference system, installing 141 MXC615 tabletop conferencing units that can be selected for operation in chairperson mode, delegate mode or shared mode if two delegates are using the same unit.
Sixteen Shure DIS-CCU control units act as a central system node, managing and powering the conference units, while providing additional channels for interpreters if needed.
'In our small and mid-sized conference rooms, we wanted to move away from projector technology and focus instead on using displays,' Gutekunst says. 'Another challenge was to ensure barrier-free accessibility by adding audio induction loops, allowing people with hearing loss to take part in all meetings.'
Discussing the flexible table configurations on offer, Bernhard Müller, Chief Planning Engineer on the Federal Joint Committee project, says: 'As the planners behind this solution, our task was to strike a balance between new products and tried-and-tested technology. The main challenge was to deploy the technology in such a way as to maximise flexibility, enabling a wide range of table-top configurations.
'Every table incorporates A/V technology to transmit signals either via a bus system or a direct connection to the floor boxes. For us, it's an advantage that the MXC paging stations are connected using a Cat cable. Combined with the standardised table designs, that means that the tables can be arranged in different formats.
'Of course, Cat support isn't a unique feature of the Microflex system. But in combination with the ease-of-use and the high acoustic quality, it meant that Microflex was the logical choice for this project, Müller says.'
Alongside the technological benefits of Microflex Complete, other considerations for similar large public domain projects are cost effectiveness and the fact that it is a system that is future-proofed by design. 'From both a business and technology standpoint, we have to offer a cost-effective system that needs to be sourced from reliable providers so that we can extend, replace or repair system components, in the medium term if necessary,' says PIK's Andreas Eckhardt, who managed sales on the project. 'As a solution provider, working with a manufacturer like Shure is crucial, with the Microflex Complete system completely fulfilling these criteria.'
'It was also important that Shure was able to provide the Microflex Complete system, which had just appeared on the market, quickly and in high volume,' says PIK Project Leader, Philipp Schwarz. 'Additionally, we had optimal support in our manufacturing and installation planning by Shure.'
Despite the challenge of a compressed project timeline, the Microflex Complete system was deployed fully and on time, thanks to the cooperation of all companies involved. 'The results speak for themselves,' reports Thomas Gutekunst of the Federal Joint Committee. 'Our experience was very positive, mirroring the feedback we've received from meeting participants discussing the touch panels that make the paging stations so easy to use.'
More: www.shure.com