With campuses in Lancaster and Ephrata, Pennsylvania, Victory Church A/V Director Adam Geesaman has chosen Waves eMotion LV1 Live Mixer and plug-ins bring consistency to the operation of its audio systems.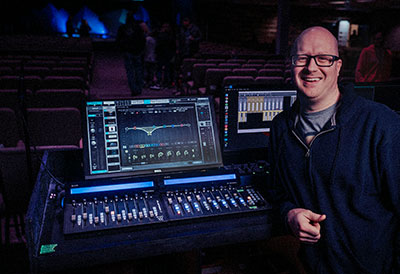 'Victory Church has six campus locations that range in size from 100-800 people in weekend attendance,' Geesaman elaborates. 'We needed a solution that allowed us to have the same user interface at all the campuses in order to make training our volunteers easy, but one that could still be scaled to appropriate size for each individual location.
'The eMotion LV1's scalability is key for us,' Geesaman adds. 'It's the same user interface and sound quality, whether you are mixing on the 16-channel version or the 64-channel version. That makes training volunteer staff so much easier and keeps quality the same, no matter how large or small the system. We use the same basic template for the sessions, and then each campus – and even the operator – can make their own custom layer to suit their individual workflow preferences. Also, because of the templates and the custom layers, setting up weekend services is really easy.'
'Our basic package is an eMotion LV1 Live Mixer and a Waves SoundGrid Server One-C, with one or two touchscreens and one or two Icon Platform M Controllers for eMotion LV1, depending on the preferences of the campus,' he continues. 'We use the SoundStudio STG-2412 stage box and a DiGiGrid D at FOH. As the campus grows, we just add I/O as needed.'
Waves plug-ins are now an integral part of Geesaman's workflow: 'We mostly stick to the Waves eMo series of plug-ins but really enjoy the F6 Floating-Band Dynamic EQ. The F6 is just a great tool on everything, as it is super-versatile,' he says. 'We run the Vitamin Sonic Enhancer on our playback tracks from Ableton to really help them pop. Another favourite is the IR-L Convolution Reverb, in that we can load our own IR's into it, which makes it really customisable and enables loads of options. The CLA-2A compressor/limiter gets used on all our vocals.
'At our broadcast location, we mix broadcast off a matrix of the FOH console. Using the F6, L2 Ultramaximizer and the WLM Plus Loudness Meter, we can ensure that we are hitting online at solid volumes. We used to get a lot of feedback from our online viewers that our feed was too quiet. This has really helped us turn up the volume and get it to where it needs to be.
'We also required something that we could manage remotely. The eMotion LV1 was the solution that addressed these needs. We are able to use TeamViewer to access the entire console for remote management. Huge win! It also makes troubleshooting remotely much easier to do. And, we love the fact that we can use high quality I/Os and superior processing and plug-ins for an affordable price. Our rooms have never sounded better.'
More: www.waves.com