Based in Memphis, Tennessee, ProductionOne has added two Alcons Audio pro-ribbon systems to its live production inventory. 'We love hearing people rave about how beautiful music sounds through them,' company owner Kiley Butler says. 'The power with 90 per cent less distortion than other systems creates a clarity unparalleled in professional audio.'
Having invested in both LR18 compact mid-size line-array and LR16 compact line array systems, the LR18 was quickly put to work on shows by Alison Krauss. 'It felt like we were in a studio with 3,000 other people,' Kiley notes.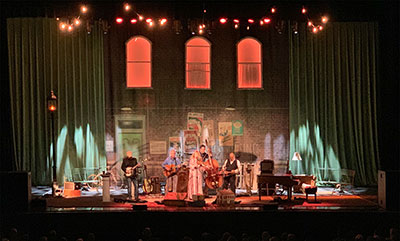 ProductionOne was founded almost 20 years ago, working on youth and non-profit events, and has grown into a full service production company serving a wide range of events in the live concert, touring and corporate markets. In 2019, the management team sought a major new sound reinforcement system, initially looking at conventional line arrays. But a trip to the annual InfoComm show in Orlando changed everything.
'Being audio nerds, we knew of Alcons Audio and we were drawn to learning about the engineering behind the pro-ribbon drivers,' says Kiley. 'We looked at all the major brands and, until InfoComm, we were thinking of growing the business with other systems. But after visiting the Alcons listening room, any idea of using traditional compression drivers was ruined.
'My ears are very sensitive to distortion and music though the Alcons systems seemed to hug my ears rather than beat them. I didn't know music could sound so clear and beautiful. We immediately changed course and went all in with Alcons.'
At the show, Kiley also met sound engineer Buford Jones, who works with Alcons as touring market liaison, and was impressed with what he had to say. ProductionOne invested in an LR18 system with BF362 high-output subwoofers and a full touring package, including turnkey amplifier racks with Sentinel10 amplified loudspeaker controllers and flight cases with specialized I/O panels. Demonstrating how Alcons Audio systems provide a long-term return on investment, the company also purchased a pre-owned LR16 compact line array system, again with BF362 subs, for regional events.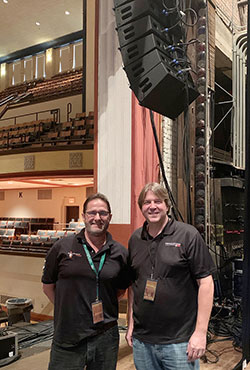 'We strongly believe that, once audio engineers hear one of these systems, it will be hard for them to go back to traditional compression drivers,' says Kiley. 'We joke that Alcons is catnip for audio engineers - when we fire up the systems we don't have to explain why it's better than others. Our clients can easily hear the difference in clarity.'
The success of the LR18 system on the Alison Krauss shows was highlighted by the audience reaction. 'We heard many audience members say that they could hear each individual instrument clearly, which they had never before been able to do so at a live concert,' says Kiley.
Krauss' FOH engineer Gord Reddy admitted he'd wanted the opportunity to mix on an Alcons system since the 2018 kd lang tour, which was mixed by Gary Stokes. 'Ever since I learned how much more enjoyable and easier it is to mix any style of music on low distortion sound systems, I have been in the pursuit of better solutions,' he says. 'Alcons pro-ribbon systems are a game changer! All the little struggles and discontent in mixes that I previously had dramatically changed for the better. As mix engineers, we just don't realise how much we incorrectly blame ourselves, when it is often speaker distortion that is the problem.'
'After the first show, Gord said that it was the best mix of his life,' Kiley adds.
The ProductionOne team has also been impressed with the ease and speed of rigging the Alcons systems, which cuts down on the time needed to deploy them. 'The flying and operating performance of the system is clearly next level,' says Kiley. 'We have been demoing the systems to our clients and they are excited about using them. At several of the LR18 demos, engineers have remarked on the system's clarity and how they experienced never before heard detail in tracks that they've listened to for years.
'For us Alcons pro-ribbon systems are the pinnacle of clarity and they fit perfectly with what we are setting out to accomplish. For those who expect more from an audio system, Alcons is the future.'