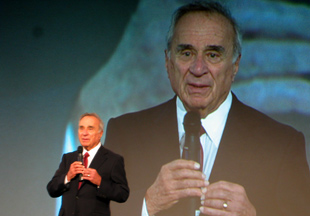 A news report posted on the US Variety website reports the death of Dr Sidney Harman 'from complications from acute myeloid leukemia'.
Dr Harman built his name – figuratively and literally – in the audio world, beginning with the Harman/Kardon hi-fi marque, which he founded in 1953. The Harman International group that followed is now behind some of the industry's leading professional audio brands, including AKG, BSS, Crown, dbx, Digitech, JBL, Lexicon, Soundcraft and Studer. The group is also a signifcant player in consumer and automotive electronics.
Dr Sidney Harman passed away on 12 April, aged 92. According to the Variety post, the Harman family said: 'He first learned of his illness one month ago and remained vigorously engaged as executive chairman of Newsweek, and chairman of the Academy for Polymathic Study at the University of Southern California. He died in Washington, DC, a city he loved and supported in so many ways, surrounded by his wife and children'.