Packing out London's O2 Arena, this year's BRIT Awards marked its 40th anniversary with Live Sound Supervisor Colin Pink in the hot seat for long-time audio provider for the show Britannia Row Productions with two flown PA systems serving event's three stages were designed by Brit Row's Joshua Lloyd.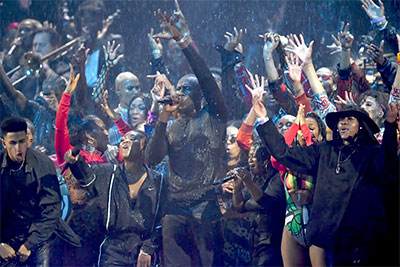 The water theme used by Stormzy's 'waterfall performance' (which soaked both him and his Sennheiser SKM 6000 mix system) from last year saw the Tour Music Live team use the water element on a much larger scale this year – Raphael A Williams, Stormzy's sound engineer, said that there was never a question about the reliability of the set up.
'It wasn't a question this time as we knew what we were doing, so we just wanted to make it happen, and TAWBOX [creative studio specialising in music performance, concert touring, television, and fashion] wanted it to be bigger and better,' says Williams. 'The first time that we did the waterfall effect in 2018 it was just Stormzy in the rain and then the rest of the production cast and BVs were outside of it. And now this time, the TAWBOX team just thought "let's put more people there", so we had Stormzy, Tiana Major9 and Teni Tinks with Sennheiser microphones on stage together with the 60 choir members and 60 dancers.'
'There was a lot of checking and making sure that everything was working,' Williams recounts. 'I remember looking at the microphone after the rehearsals and thinking to myself that it wasn't really wet, just a little drippy. In rehearsals it was amazing, it would survive all the way through to the end. And during the show, we all jumped up again as it performed flawlessly.'
Performing with Stormzy on the night were Burna Boy, Tiana Major9, and Teni Tinks all using Sennheiser SKM 6000 with MD 9235 capsules and 2000 series IEMs. An additional 19 channels of 2000 series IEMs were used for bands and performers with a further three channels for technicians.
'The MD 9235 capsule is unbelievable,' Williams says. 'It's just got that extra sparkle to it. As a dynamic capsule, 9235 is great; you don't need a condenser capsule to get that sparkle. This dynamic capsule is great for the strong vocal that Stormzy and Burna Boy have, it's a game changer.'
'It was also technically the first time Burna Boy was on in-ears – normally he does not use in-ears at all, only wedges – but we asked him to try them, as every engineer is different, and we didn't have any problems. He had got a pack, he has got a good microphone, and he liked it, which is a real plus.'
Other artists using Sennheiser microphones included Mabel, the winner of British Female Solo Artist, who was using a Digital 6000 wireless system for her performance. Mabel sang into a Sennheiser HSP 4 headset, transmitted via a Sennheiser SK 6212 mini-bodypack transmitter and received by an EM 6000. One channel of 2000 IEM was used for monitoring.
Harry Styles performed on a waterlogged stage and with more water pouring out of a grand piano, as he crooned the ballad into his SKM 6000 with MD 9235 capsule. Monitoring for his three backing vocalists and piano player was done via four channels of 2000 IEMs. Performing a medley using an SKM 6000 and MD 9235 combination, IEMs for Lizzo and her dancers were Sennheiser 2000 series.
Closing the show were Rod Stewart and Ronnie Wood, performing together for The Faces with orchestral backup. Wood wore Sennheiser IE 500 Pro IEMs and later commented how much he liked the sound of them.
'Sennheiser provides a great service with their tech support at The BRITs,' says Joshua Lloyd, Britannia Row's Technical Projects Manager. 'Just knowing that they're on site adds an extra layer of comfort, which goes a long way on a busy, live show such as this. Andy Lillywhite and the team are more than happy to assist with any and all queries and that really strengthens the wider audio crew.'
'I've now been working with the Brit Row team on the BRITs for 18 years, and each year the show throws something different at them,' says Andy Lillywhite, Customer Development & Application Engineer at Sennheiser. 'This year, for example, there were three separate stages to cover. The presenters' mics have to work anywhere in the arena as well. Stormzy's set was another true spectacular. RF is always a challenge in this type of environment and it is an honour to be able to be there and to help Brit Row ensure that everything runs smoothly.'
The BRITs are such a long-standing relationship between Sennheiser, BritRow and Colin Pink,' says Andy Egerton, Artist Relations manager with Sennheiser. 'With this being Sennheiser 75th anniversary and The BRITs 40th year, it's a testament to the level of quality all concerned bring to the production.'
More: www.sennheiser.com