Carl Tatz Design (CTD) recently installed the new PhantomFocus PFM UHD-1000 professional monitors in independent engineer Doug Sarrett's Uno Mas Studio in Nashville, Tennessee.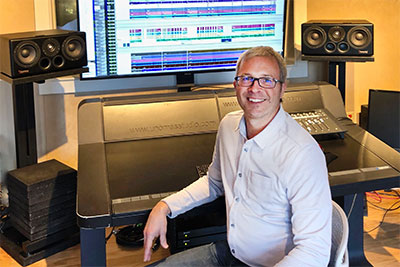 The PFM UHD-1000 Monitor is the flagship two-way passive monitor in the CTD PhantomFocus line of Precision Monitoring Instruments, featuring bi-amplification and proprietary high-end drivers, and claiming 'groundbreaking speaker cabinet innovations'. The monitors at Uno Mas Studio are installed in tandem with CTD's PhantomFocus System (PFS).
Sarrett is a long-standing PhantomFocus System user, dating back to the earliest analogue iteration that drove his vintage Tannoy Super Gold monitors. Two years ago, CTD upgraded Sarrett's PFS to the current digital processor and protocols, which served as a big bump to his monitoring; however, he still remained 'married' to his Tannoys. Accepting an invitation to experience the new PFM UHD-1000s at one of CTD's PhantomFocus MixRooms prompted Sarrett to make the transition.
Sarrett, who has worked on projects with the likes of Paul McCartney and U2, comments: 'After being on Tannoy SGM-10s for 20-plus years, I decided to make the jump to the PhantomFocus PFM UHD-1000 Monitors, and I couldn't be more pleased.
'The clarity of sound and the imaging in the stereo field are unlike anything I have experienced. I can trust that what I am hearing will translate to any other system, car or headphone. My confidence on the balance and the blend of the music is better than it's ever been. I'd love for others to experience what I'm experiencing.
'As part of my upgrade, I also got the PhantomFocus eChair and my lower back has never felt better. Long days in the studio don't feel like long days in the studio when I'm in it.'
More: www.phantomfocus.com