Loudspeaker manufacturer dBTechnologies has appointed pro audio specialist Audiopole for distribution of its ranges in France.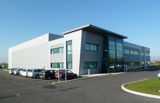 Located in Marne-la-Vallée near Paris, Audiopole is one of France's premier distribution operations, with a comprehensive network of sales and marketing channels covering installation, retail, broadcast and rental markets. 'dBTechnologies is a complementary line for our portfolio, perfectly filling the gap between high-end touring/installation and entry level products,' Audiopole MD, Bruno Bertrand says. 'The dB brand already has a strong image within the retail market, and we see further opportunities for it alongside our current distributed ranges, which will certainly bring additional value to our business.'
The French company will be distributing the complete dBTechnologies range alongside other brands including MC2, beyerdynamic, Digigram and Allen & Heath.
'It is all the more important in the current climate to ensure sure that we offer the most efficient service to our customer base,' Harald von Falkenstein, dBTechnologies' European Sales Manager says. 'Situated in the heart of the territory, with a strong reputation and a wide range of well respected products, Audiopole has all the right ingredients to make that happen.'