The Røde House is a new live music and performance space located within the recently opened Momentary contemoporary arts space in Arkansas.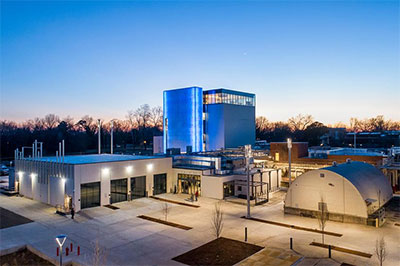 The venue was founded by the Walton Family, the founding owners of Walmart. Occupying a decommissioned 63,000sq-ft cheese factory in Bentonville, Arkansas, the Momentary aims to 'champion contemporary art's role in everyday life', serving as a satellite to Crystal Bridges Museum of American Art, founded by Alice Walton. The new space offers galleries for exhibitions, performance spaces, artist-in-residence studios, culinary experiences and a festival field. In 2018, Røde rounder and Chairman Peter Freedman became a founding funder of the Momentary with a contribution of US$1m, marking the beginning of construction of the Røde House.
The venue is a multidisciplinary space within the old Milk Intake Room of the factory, and provides a unique platform for Australian and international artists to perform for American audiences. To celebrate the opening, Australian singer/songwriter Courtney Barnett gave a string of rare solo performances – her first in Arkansas.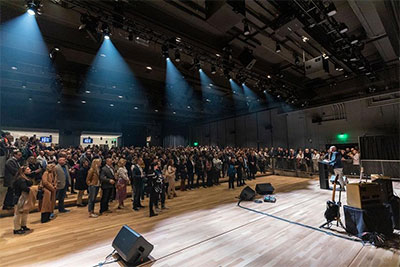 The intimate performances were part of Time Being, the opening weekend festival that offered a look at what's to come in the Momentary's inaugural year. Also taking to the Røde House stage over the weekend were Icelandic electro-pop band FM Belfast and Bobbi Jene Smith's performance piece A Study on Effort.
The venue can seat upwards of 350 people and features an adjustable floor system that allows the room to be reconfigured, giving artists and performers the freedom to manipulate the space to suit their needs.
The space also features a dedicated bar called the Røde Bar, projection screens for presentations, and can either be fully closed or partially open-air for special performances and events. inevitably, Røde has taken care of the venue's audio production requirements.
'The Røde House is an extraordinary venue,' says Freedman. 'I have been very excited to be a part of the Momentary since I first visited Bentonville in 2017, having met the Walton family and seen their vision for the space. Working with them has been a real pleasure – their commitment to championing the arts resonates with me deeply.
'I am also delighted to have had Courtney Barnett perform on the opening weekend. She's a brilliant Aussie artist and I look forward to seeing many more like her on stage at the Røde House in the coming years.'
More: www.rode.com