Although it started small, the Calvary Chapel now has seating for 1,400 in its main sanctuary, a 600-capacity fellowship hall, and a vibrant youth ministry – all located in a former shopping centre. Allen & Heath components including a dLive C3500, multiple SQ-5, and ME-1 mixing systems are used across the campus, meeting the needs of audio events large and small.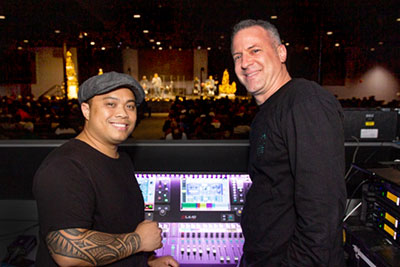 'By design, Allen & Heath mixing systems are truly multifaceted within this application,' explains Bart Cardea of Providential Integration Concepts, the firm that developed the audio blueprint. 'Throughout the construction phases of its campus, the church held to a conviction that high-quality audio was something that should serve every worship space, not just the main sanctuary. When it came to the controlling end of that equation, high channel count flexibility was a very real necessity, not just an abstract concept.'
With installation of the Providential Integration Concepts design managed by Matt Stairs of Sunset Sound, audio signals route via Dante throughout the plan. The church's dLive C3500 control surface stands at front of house in the sanctuary, joined by a DM64 MixRack at the stage, which often hosts major faith-based musicians from around the country. The first of three SQ-5 mixers on-campus handles the sanctuary monitor mix, while the second and third are respectively deployed in the fellowship hall and youth room. Eight ME-1 personal mixers reside on the sanctuary stage, used for both regular services and visiting performers.
'If anything, Allen & Heath has allowed us to expand at our own pace, growing into a future where we always can accommodate a larger sonic vision,' says Calvary Chapel Technical Director, Tony Lewis, 'From the speed of our workflow to our ability to configure these systems in a fashion that suits the working style of any of our own staff members and visiting engineers, there isn't seemingly anything within our audio chain that hasn't improved. We have pristine 96kHz performance. Countless compliments come our way from guest artists and engineers on the lack of coloration, and how easy it is to dial-in their sound to levels they usually only obtain in a studio setting.'
More: www.allen-heath.com