The UK's Middlesex University recently upgraded systems used for its media production courses with a significant investment in Sennheiser's Digital 6000 wireless microphone series.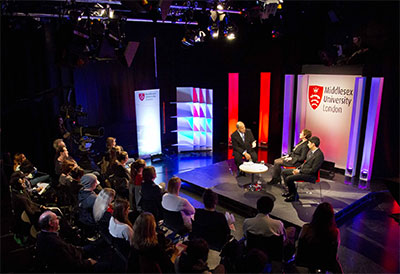 The university's BA Television and Digital Production degree programme boasts a high ratio of technicians to students, professional grade teaching facilities with an equipment catalogue that includes Sony vision mixers, Allen & Heath dLive mixing consoles and Sennheiser microphone systems. The television studio facility has also been used by production companies, and graduates have gone on to work for industry leading organisations, including the BBC, Endemol, ITV, E4, Disney and Sky TV.
The course comprises practical modules to plan and operate a range of productions from drama and sitcom, to documentary and chat shows, to film, across the spectrum of broadcasting, streaming, and video on demand media. 'The technical staff are all practitioners, so for a student looking for a hands-on degree that will fully equip them as technical operators from the get go, I don't think you can top what we have to offer,' explains Middlesex University Faculty of Arts & Creative Industries technical manager, Aidan Delaney.
To retain its technological edge and cater for new elements in the degree programme, the department needed to upgrade and expand its range of microphones, replacing its existing stock of Sennheiser G3 500 series equipment.
'Due to a significant budget opportunity, the University had undertaken an overhaul of its entire audio system infrastructure to help navigate the emerging technology landscape,' says Delaney. 'We decided to migrate our audio systems to Dante, so it was important that the new microphone systems would be compliant and have the flexibility to connect via Dante across the board. Sennheiser was the obvious choice, as it fits this mould and is industry standard, so we can familiarise students with the equipment they will be using in the field.'
Delaney and team decided to mix their stock between digital and analogue solutions, selecting evolution wireless G4 500 Series and Digital 6000 wireless microphone systems. The investment was selected and sourced through leading pro audio supplier and integrator, Stage Electrics.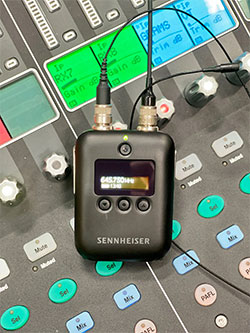 'We were asked for our advice on the best solution for the course, bearing in mind that they wanted to invest in industry standard radio mic solutions,' says, Stage Electrics National Sales Manager, Paul Roughton. 'We suggested Sennheiser Digital 6000, and then went to the university to give a demo. It's exciting to be involved with a forward-thinking team that delivers an outstanding course and is keen to invest in the latest technology.'
'The university's facilities are very impressive,' adds Kevin Gwyther-Brown, Channel Sales Manager for Pro Audio Solutions at Sennheiser. 'By introducing us to the university, Stage Electrics gave us the opportunity to demonstrate our latest technology. It's great to see this being offered by the University to the future personnel of our industry.'
The Sennheiser G4 500 Series and Digital 6000 systems, including the mini bodypack SK 6212, offers students the opportunity to work with a variety of products, and also teaches them about analogue processes, whilst learning about new digital technology at the same time.
'Technically, one of the main attractions for me was the wide band tuning, which enables us to future proof the system if there is another Ofcom clearance, and commercially, the mixed system also offered us more teaching opportunities,' continues Delaney. 'Stage Electrics offered us a hands-on and complete customer service, introducing us to Sennheiser, who supported us pre- and post-sale.'
Along with its investment into Sennheiser products for the television studio, the university is planning to add MKE1 compact clip-on mic to its equipment loan store.
'Based on our experience in the TV studio, the MKE1 sounds great at lower levels, it's really transparent with a full, natural sound, and excellent presence, and compact in size,' Delaney says. 'It's very discrete, and I'm really impressed with the size in comparison to other offerings on the market. They will make a great addition to our equipment stock, which I am proud to say is looking very impressive, and comprehensive with the recent additions from Sennheiser.'
And the investment is paying dividends for students and staff alike: 'I really like how easy it is to pair the transmitters and receivers and the bodypacks are tiny which makes them a breeze to hide in actor's clothing,' comments second year television production student, Amy Moran.
'The depth of control and visual feedback on the receiver unit, combined with the lack of intermodulation makes things much easy during a challenging production with high channel counts,' concludes technician, Martin Baxter. 'Getting the Digital 6000 has made my work easier.'
More: www.sennheiser.com