Led by Artistic Director Jessica Olivieri – who has spent two decades developing ambitious cross-disciplinary projects with renowned national and international organisations – Australia's Urban Theatre Projects (UTP) presents real-life stories portraying modern-day Australia through site-specific experiences. In addition to playing theatres around Australia (and beyond), many UTP projects are presented in Blak Box, a portable venue that uses Alcons Audio pro-ribbon systems for an immersive audio experience.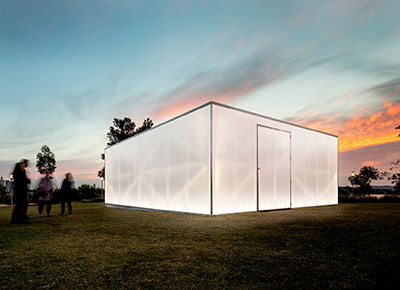 The Alcons systems for all Blak Box productions are supplied by David Betterridge of Sydney-based Loud & Clear Audio.
UTP's latest production, Momentum, was presented in Blak Box at the Barangaroo Reserve in Sydney. The system comprised six pro-ribbon VR5 mini versatile monitors and two BF151MkII compact subwoofers, powered and managed by two Sentinel3 amplified loudspeaker controllers. The VR5s were evenly spaced around the perimeter of the internal wall, with the BF151s placed in opposing corners, between the internal and external walls.
'Each project presented in Blak Box is an individual work created by different teams, with different styles of storytelling, music and soundscapes,' Betterridge explains. 'It's quite an intimate space, so the quality of the system is paramount. For Momentum, the brief was to supply a very compact system, because there was very little space for the top boxes, but which would be capable of reproducing a very varied range of speech and musical styles.'
Betterridge and his team proposed the Alcons VR5 for its very high fidelity sound, and ablility to fit into the very tight space between the top of the internal walls and the roof of Blak Box. 'It was a challenging project, as the design of the room itself was modified as the production evolved,' Betterridge says. 'The gap between the inner and outer walls of Blak Box is very tight in many places and it's filled with lighting/cooling and other tech, so finding suitable ways of mounting the VR5s in the correct locations and even running cables to them meant a number of re-thinks to our original plans.'
The curator of Momentum was Daniel Browning, who used the 1983 video of David Bowie's Let's Dance (shot partly in Sydney, around what is now Barangaroo) as the basis of a project to examine the representation of First Nations (indigenous) peoples in popular culture. The pre-recorded soundtrack comprised music by composer Eric Avery, vocals by Ursula Yovich and a suite of poems and spoken word by emerging new writers.

'As a sound curator, at the outset I'm entirely focused on the quality of the recordings,' Browning says. 'It's when I am immersed in the studio that I hear all of the nuances – the blips and occasionally the defects present in them. Much of the content I curate is spoken word, and there are lots of variables in that.
'For my work, it's crucial that every breath, every inflection or intonation, every editorial pause can be heard clearly, and what I've noticed with Alcons pro-ribbon speakers is that the quality is so good, I'm often hearing things for the first time. You literally hear everything and they handle everything superbly. The speakers don't just amplify, I can honestly say they deepen the experience. The sound is warm but crystalline, to my mind Alcons speakers are far superior to any other systems I've worked with in 25 years.'