Adopting VicPET Wool as its new primary raw material, Portuguese acoustic treatment specialist Vicoustic has manufactured acoustic panels using more than 250 tons of plastic waste, equivalent to roughly 22m 500ml PET bottles being recycled. Consisting of 65 percent recycled plastic waste, VicPET Wool is designed to optimise acoustic performance while not adding glue, fabric or chemical fire retardant.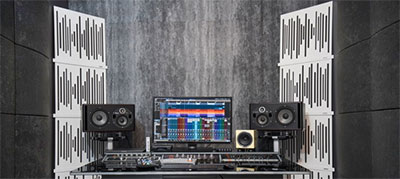 Through extensive research and testing, Vicoustic fine-tuned this material into Virtual Material Technology (VMT), using an innovative dyeing technology, which allows simulating concrete, marble, wood and other materials. It is washable, resistant, and easy to cut. It also provides a great acoustic solution to implement in any setting, ranging from recording studios and home theaters to workspaces, hospitality, retail, education and even in private homes. VMT can be found across a wide range of products such as Flat Panel VMT, ViClouds VMT, VicWallpaper VMT, VicOffice and Vixagon VMT.
Among the use of recycled and recyclable materials, Vicoustic's new line of products takes a holistic approach into account by fully integrating its acoustic performance with other sustainability goals, such as air quality, human safety, and health. VicPET Wool meets EuroClass B fire regulations and safety standards. It is a low emitting VOC material ensuring air quality to the rooms where it is installed and it is also certified by OEKO-Tex 100 Standard, meeting the human-ecological requirements presently established for baby products.
More: https://vicoustic.com