Among Italy's leading and most respected audio rental firms, the iMputLevel Group serves the professional rental sector with audio installation, lighting and video technology, stages and rigging.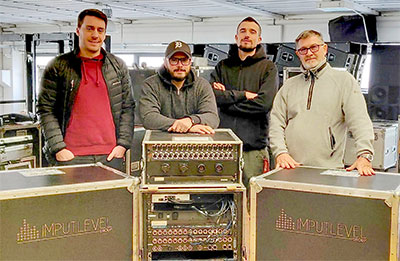 Founded in 1992 by Gianni De Masi and Paolo Boscolo in Villorba di Treviso, the company services both top Italian artists and international visitors such as Lou Reed, Elton John, Peter Gabriel, Bjork, Massive Attack, Steve Vai, Carlos Santana and Rage Against the Machine.
In order to be able to meet the requirements of live events, theatres, conferences, exhibitions, tourist attractions and television with custom designs and system engineering, iMput constantly updates its equipment – most recently with Outline's Newton audio processing platform. Based on FPGA technology, it provides the nucleus complex audio systems management.
'At the moment, iMput has three Newtons, but I hope we shall shortly take delivery of a fourth unit,' says iMput PA Manager and audio chief, Nicola Mazzotti Pugliese. 'Newton enables us to easily interface several consoles in the same set-up handling different clocks. From when the first unit arrived, we PA managers constantly "argued" to have it. We use it on tours and at conventions. No system goes out without a Newton. Outline's assistance is excellent, even if, fortunately for them, Newton's so easy to use that it's unnecessary.
'For us, being able to manage signal transport via Madi co-ax and Dante is very effective, also because using a loudspeaker brand other than Outline we didn't have to change anything in our workflow – we have only improved and simplified our work process.
'I wouldn't never renounce the user-friendliness this unit provides: going back and using famous processors, other than Newton, would be unthinkable today, at least as far as I'm concerned! I don't mind admitting I've considered buying one to keep all to myself. The operation of the EQ, the quantity of filters and their effectiveness, particularly the WFIR, are things that continue to impresses me.'
He believes that Newton is now an indispensable investment for all rental companies that aim to continually improving their work, quality of their service and safeguard their technicians with a very flexible unit adaptable to every situation that arises.
'Newton can be used in a thousand ways and in a thousand different situations. The use of FPGA ensures an almost infinite development and strengthening of the unit through the years, without ever having to carry out hardware updates,' he concludes.