Vue audiotechnik rental partner AV Technik has expanded its inventory of Vue products, adding al-8 Acoustic Linearity Line Array elements to the al-4 arrays already in the company's arsenal.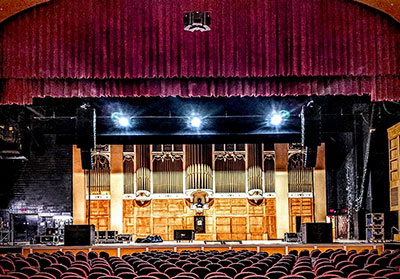 AV Technik President, Daniel Willis and his team frequently provide sound reinforcement for events at the Merrill Auditorium in Portland, Maine. This is a venue that the AV Technik crew is familiar with acoustically, so it was ideal for working with their new al-8 line arrays.
Jeff Taylor was deployed by Vue to train AV Technik staff on the al-8 rig with al-4s flown beneath to take advantage of the acoustic linearity. The hs-221-E (Extended Low Frequency) ACM infrasonic dual 21-in subwoofers were stacked on stage just beneath the arrays.
AV Technik had five staff onsite during the training. 'We work a ton in that space and they had a dark day which was perfect timing and allowed us to play with the system for the day,' Willis explains. 'The multi-level seating has lots of nooks that always present audio coverage challenges. With Jeff Taylor's assistance and use of the SystemVue control software, we could properly attenuate the al-4s directed at the floor seats in front of the stage, while making sure the throw provided proper coverage at the back of each balcony seat.
'AV Technik's dedication and time spent during this training will greatly benefit its ability to solve audio challenges in that room and similar. Vue and AV Technik's training is proof of their philosophy that 'great event experiences are born from great partnerships'
More: www.vueaudio.com