Prolyte has appointed DJP Diffusion as its official distributor for Switzerland.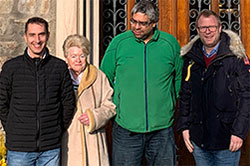 DJP Diffusion has become a Prolyte distributor after joining forces with Prolyte's most experienced ambassador Rose Oberer.
Under the agreement, DJP Diffusion will primarily provide Prolyte products alongside focusing on the venue, theatre installations and the rental fleet business.
Oberer is recognised in Switzerland for her expertise and knowledge of Prolyte products. She has more than 25 years of partnership and dealings with Prolyte and the Swiss market. 'Together we will keep Prolyte as the number one in Switzerland. In Prolyte you can Trust,' says Oberer. 'No matter what happens, Prolyte is the standard in quality and safety – after more than 25 years of collaboration, I know what I am talking about.'
More: www.djp-diffusion.ch