Working out of in new premises in Moorebank near Sydney, The Audio Visual Co recently invested in L-Acoustics A Series loudspeaker system to serve its work in corporate events such as galas, awards nights and product launches, as well as broadcast and concert touring.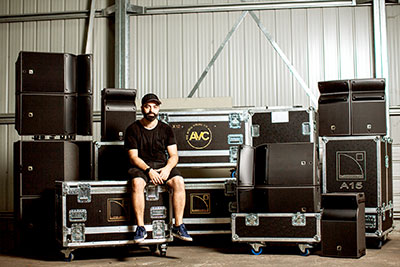 Established three years ago, The Audio Visual Co has already earned a reputation as a dynamic, results-driven audiovisual specialist. From the outset, company director, Jimmy Bandal made L-Acoustics his loudspeaker brand of choice, with the A Series recently presenting itself as an appealing addition to his fast-growing business.
'At the outset, L-Acoustics captured my attention as I found the sound signature of the cabinets very pleasing, their response is linear, and they are extremely user-friendly,' he says. 'As well as the company's first class loudspeakers, I've found that both L-Acoustics Soundvision 3D acoustical modelling software and LA Network Manager are very helpful in allowing me to accurately and simply predict my venue designs.'
The company's initial investment in L-Acoustics was a minimal amount of X12 and SB18 subs, along with an LA4X amplified controller but, with the substantial increase in business, it was time to increase the inventory. Working with L-Acoustics Certified Provider Distributor, Jands, A10, A15 and KS21, as well as Kiva II medium throw line array, and Syva colinear source have been added to its stock.
'Gerry Gavros from Jands and I met several times to go over my requirements and determine what would suit us best before I made a final decision,' Bandal says. 'His assistance has been very helpful. It was A15 that really caught my attention, I was very impressed! They sound incredible along with the new KS21 subs. The A15 and the A10 was what I needed to invest in to fill in the gaps; the versatility and power just works for the type of events I take on.
'The feature that has really helped me do things I couldn't do before is the flexible coverage (Panflex). Adjusting the Panflex has helped me minimise reflections in challenging rooms. Another feature I like is the flush-fitting rigging system. This will save me so much time as it can be rigged in minutes. Meeting deadlines in the corporate events market can be tough at times, so this new feature is a life saver.'
Bandal's decision to put his faith in L-Acoustics has been ratified by the positive reaction from his clients, as sound engineer Roly Elias confirms: 'I have been hiring L-Acoustics gear from The Audio Visual Co for most of my events for a few years now, and Jimmy has never let me down when it comes to choosing the right PA,' he says. 'I really like the fact all L-Acoustics cabinets have a similar character when it comes to the sound. The balance across the entire spectrum is truly amazing and I always have something to look forward to when I know L-Acoustics is being used on my events.'
Looking toward his next five years of business, Bandal sees the company using A series more often on live events, as well as for his corporate clients, and declares that his investment in L-Acoustics will continue.
'My initial decision to invest in L-Acoustics has helped us to grow,' he concludes. 'The beauty of the A-series is its scalability, and that means the system can grow along with the company.'