Snow Patrol recently embarked on a UK tour that included two performances at London's Royal Albert Hall in support of their eighth studio album Reworked. The album was released November 2019 to mark the band's 25th anniversary, and included re-imagined versions of old songs and three new tracks.
Matt West joined the tour as FOH engineer: 'It's a 14-piece band and a very open, live stage,' he says. 'The band has reworked songs to a certain extent, so it's a new take, with new instruments on already fantastic songs. Everyone's got a vocal mic, and the guys are all on in-ears, as we're keeping things as quiet as possible on stage.'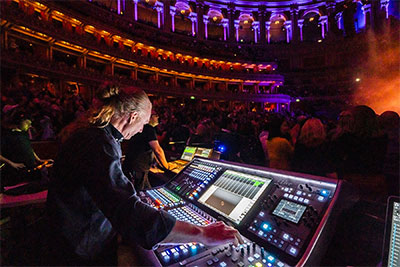 The tour sees West manning an SSL L550 mixing console for all shows: 'I knew if SSL was going to put out a live range of consoles, they would capture the trust of the old school analogue vibe,' he says. 'So I looked at what SSL was doing, saw that the L550 had a big screen and big buttons, and being a big-fingered person, little buttons are ineffective for me, so it looked very interesting straight away. I spent a few days just mixing on the board, and I just kind of fell in love with it.
'I see lots of people using plug-ins and bringing all these external things to add to supplement digital desks, but I don't do anything with the L550 other than what's onboard, and that's what I love about it,' he continues. 'It does everything that I need, and the recent SSL software updates have made it even faster to navigate through internally. It just sounds fantastic.'
In the analogue world, West was a fan of subgroups, and so favours the SSL's Stem functionality: 'Being an analogue person, I still refer to them as groups, but the SSL Stems work great,' he says. 'I'll always pair up my kick drums, then compress the group just to get some nice closeness; and I'm also using Stems for the strings, the brass, and the acoustic guitars, as there are a lot of them – I simply go in and slap the SSL Buss Compressor across the stereo – it does everything I need it to do, it's beautiful, and keeps everyone gelled together.
'There are so many backing vocals on this tour that I've separated all of those out too, letting [lead singer] Gary [Lightbody] exist on his own, so I've pulled the backing vocals into one Stem, which I've found has opened up the mix quite a lot.'
And, according to West, the L550 is very 'honest-sounding' in the EQ section, in that it sounds particularly clean on acoustic instruments: 'I've really got to be able to get in there and nail down some frequencies to be able to try and get the level before they're going to feedback,' he says. 'You can obviously only turn things up so loud to get strings dynamic enough to sit above a decent level band, so you need to be able to get into your EQs and look really closely – and I can hear what I'm doing without any issues whatsoever, whereas with some other consoles, you can find you're trying to find a frequency, so you punch it up, flip it backwards and forwards, and you've almost got to add 15dB to hear what the EQ is doing! With the SSL, you can just do it straight away via the screen; throw it up and move it up and down again, and there it is.'
West describes the desk's All-Pass-Filter as one of the 'heroes' on the desk: 'That's amazing, that thing,' he enthuses. 'It has absolutely fantastic applications because normally you'd go, okay, let's see if the two kick drums sound better if I punch one of them out of phase, but with that, you're either losing clarity, or your punch is gone. Using the All-Pass-Filter means I can just choose which one sounds better, go back to the All-Pass-Filter, dial it back to what I liked when it was in-phase, choose my favourite, and then add to it. When I have an opportunity to use it for what it's designed for, I think, 'How did I ever live without it?' You can try it out on everything, and it's a very key feature for me.'
And the Tape Echo? 'It sounds really old school, and the combination of that with new technology means that it sounds old on a new piece of kit; it sounds warm and super analogue, and it's a digital desk. That to me is pretty unbelievable.'
West is using the L550 alongside the SSL ML 32.32 analogue stagebox. Ultimately, he says he is just enjoying being able to get hands-on with his mixing and not having to worry about racks of outboard…
'Especially when you get in tight places with difficult load-ins and load-outs,' he confirms. 'We just bring in the desk, and away we go – no racks of kit to set up, it's all there in the console.'
More: www.solidstatelogic.com