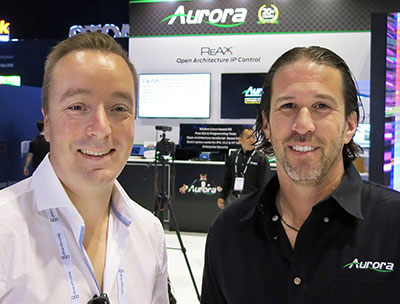 Aurora Multimedia has appointed CUK Audio as exclusive distributor for the UK and Ireland.
The New Jersey-based manufacturer is best known for A/V-over-IP solutions. The addition of the brand to the CUK Audio portfolio is part of the company's expansion from its core audio offering to offer innovative video and control products to customers.
'Aurora Multimedia is a true innovator in the A/V industry and the number of firsts the company has to its name is truly impressive,' says CUK Audio MD, Stuart Thomson.
'The IPX line of SDVoE based 10G A/V-over-IP transceivers are a great example of the innovation the company brings to the market, incorporating advanced features such as reversible USB, copper and fibre connectivity, integrated ReAX control processor, eight-channel Dante, audio DSP and wallplate form factor.'
'Since my first contact with Paul Harris at Aurora Multimedia, I knew this was a company that we had to work with,' adds CUK Audio Sales Director, Simon Druce. 'The culture of innovation that Paul has fostered in the organisation is impressive, and the products resulting from that will enable our customers to improve the solutions they offer to their clients.'