Producer George Moorey adds an historical perspective to his recordings by taking his mobile set-up into ancient buildings. His most recent project is a songwriting collaboration with friend, musician and lyricist, Shane Young, called The Powdered Earth. The first single Hold Your Breath is released incorporates piano samples he's been recording all around the UK city of Gloucester, where he is based.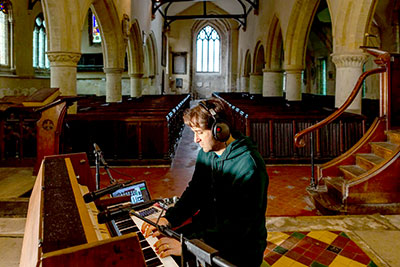 Capturing the spirit of the city in the form of samples – a process that now includes the use of an Audient iD14 audio interface – he showcases them in a variety of genres including choral, classical, folk, hip-hop, electronica, grime and rock. 'Piano is crucial to the sound of The Powdered Earth, he says. 'The parts are simple and repetitive, so I record them as Midi using a master keyboard and a DAW. This makes it easier to edit and change the songs as they are developed. Using Midi also means we can replace all the sounds, so I am collecting piano samples at every opportunity.'
One of his favoured recording locations is the 12th century St Nicholas Church, where he keeps an upright Opus pianino that he describes as 'a little beauty': 'The Audient iD14 is perfect for the task. Two quality pre-amps and converters, and easy to use physical controls and software interface.' Fitting everything he needs into one bag, he's all set for stereo recording and overdubbing on location.
Having recorded in a number of ancient Gloucester buildings to date – the Cathedral, St Michael's Tower, Blackfriars Dominican Priory and the Guildhall for example – he knows he needs to be ready for all eventualities. 'If there's power available, I am able to use the iD14's 48V phantom power with condenser microphones. If there's no power, a pair of dynamic microphones are used and the iD14 can be powered via USB from the MacBook. This is something I've done a few times.'
This particular church has its shortcomings, however: 'St Nicholas has an amazing, expansive natural reverb, but because it is in the city centre, it's pretty difficult to get a quiet recording. There's often the sound of conversations, cars, seagulls, sirens and other noises specific to the location. The cathedral bells pealing for example, or the occasional tipping out of hundreds of bottles from the pub next door. On the plus side, it does mean that my recordings and samples are far from generic.'
He describes his fascination with ancient location recording as 'a surreal and profound privilege to be able to tap into the rich seam of culture and history associated with these spaces through the centuries'.
More: www.audient.com