Toronto's Knox Presbyterian Church can trace its history back to 1820, and i its current building near the University of Toronto to 1909. Its ornate, high-ceiling sanctuary accommodates 550 in sublime beauty but – until recently – with sound to match. Its poor intelligibility was largely due to a renovation that radically changed the acoustic nature of the space rendering the previous system untenable. Coupled with a transition from traditional to contemporary worship music, and the services were inarticulate.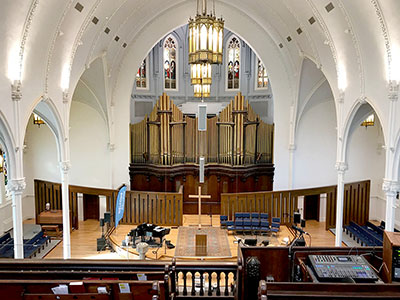 Now, the A/V integration department at local music store Sherwood has rescued the church with a new sound reinforcement system based on Danley Sound Labs SBH-Series point source loudspeakers that keeps energy away from the walls and directs it toward the congregants.
'We started work on Knox Presbyterian's troublesome sanctuary after completing several other projects that they were really happy with in other areas of their facility,' explain Sherwood Project Manager, Craig Ritchie. 'They had some 30-plus year-old loudspeakers way up in the ceiling that were firing above the seating – just energizing the room, really. During the previous year, they had rented a groundstacked PA, but that came with its own issues. No one could understand anything.'
Ritchie and his colleagues at Sherwood had installed several Danley systems, and invited the decision makers at Knox Presbyterian to listen to a system at St Mary's Roman Catholic Church, in Kitchener. Although Ritchie arranged the meeting and demo, no-one from Sherwood was present in order to allow the members of the two churches to speak freely.
'Danley technology has provided great solutions for us, especially in difficult churches,' Ritchie says. 'The pattern control is fantastic; we're able to cover exactly the area that needs coverage and nothing else.'
Knox Presbyterian Church now has a SBH10 flown directly above the pulpit to cover the main seating area. A delayed SBH20 halfway back covers the balcony in the back of the sanctuary, while a pair of Nano loudspeakers provide fill to either side of the pulpit. A four-channel DNA 10k4 Pro amplifier with integrated DSP and presets for every model, powers the system and provided a reasonable starting point for the modest tuning that finished the job. The rest of the church's sound reinforcement system was in good shape, and the Sherwood technicians were able to reuse existing wire runs.
'The church has modern, upbeat services and serve a diverse mix of ages,' Richie says. 'Spoken word fills the bulk of their services, and now, as promised, it is wonderfully intelligible. They hadn't really expected the musicality of the system to improve since they were mainly worried about intelligibility, so they were pleasantly surprised to hear how alive and musical the guitar and grand piano sound reinforced through the new Danley system,'
More: www.danleysoundlabs.com