A technology business hub and event space in the Norwegian capital has recently completed a major audio upgrade that includes an Allen & Heath dLive mixing system to serve four main zones used for workshops, live performances, yoga classes and business events.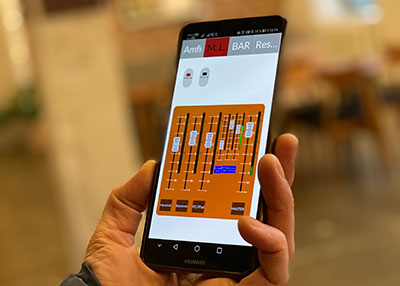 With a diversity of different clients, Share Oslo required a system that was as simple to operate as possible, allowing users to run presentations, control levels and choose sources without the aid of a technician. The compact, flexible solution supplied by Benum Norway comprises an Allen & Heath dLive DM0 MixRack, fitted with a Dante card and three IP1 wall-mounted remote controllers.
'We needed to design an audio distribution system entirely based on AOIP (Dante), but also needed features such as AMM, Dynamic EQ, freely configurable bus structures and easy scene handling with advanced filtering built-in, and the DM0 gave us the flexibility to easily tackle this project,' says Benum Norway Product Manager, Daniel Glaister. 'The plug-and-play nature of the IP controllers gives guest users instant dummy-proof control, while the Custom Control app provides the day-to-day users with an easy to understand interface, which offers more advanced control for employees.'
Using the Custom Control app over a wireless connection, audio across the four zones can be controlled by guests via their own smart devices, allowing them to simply log in to a specific user profile and have instant access to a simplified custom interface, giving as much control over audio levels and systems as needed. The receptionist is also provided with Custom Control via a local tablet device and uses a more advanced employee profile.
The DM0 is located in a server room feeding the four zones via matrix outputs and connected to the IP1 controllers placed in the members' lounge, the event space and the bar. Simple operations such as volume control, source selection and scene recall are also managed through the wall-mounted controllers, allowing users to select presets for backgroundmusic, PC audio and wireless mic systems in each area.
'We operate in an old stable from 1861 and so we needed a system that could carry the sound throughout all the nooks and crannies, and at the same time look discreet and smooth in a minimalistic environment,' explains Share CEO, Mette Presthagen. 'It's really great to have a system that works across all rooms and is easy to navigate.'
More: www.allen-heath.com