As part of the ongoing refurbishment of six recording studios, LIPA (The Liverpool Institute for Performing Arts) has installed an AMS Neve Genesys G32 console with GenesysControl into Studio 1, a compact facility that is primarily used to teach music tracking, overdubbing and mixing to students on its Sound Technology degree courses.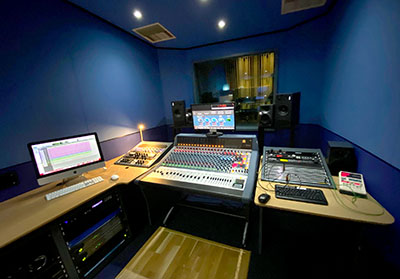 'We chose a Neve Genesys G32 console because we wanted something fundamentally analogue in terms of its signal path, but also something that integrated well with modern workflows,' says Head of Sound Technology, Jon Thornton. 'As we already have a large format SSL Duality in the George Martin Studio next door, we thought that we should really have a contrast, both in terms of sonics and approach. The Genesys fitted the bill perfectly and gives us plenty of channels in the footprint we have available.'
Thornton explains that the sound of the console was also a major reason for its selection: 'It is 100 per cent Neve from the preamps onwards, and for tracking that is a tremendous plus. The fact that it's digitally controlled analogue makes saving and recalling desk layouts easy – important for us as we can have four or five different projects moving through the room in any given day.'
The addition of a Neve GenesysControl Plugin has brought further flexibility to the Studio 1's workflow by giving students deep level of integration, recall and automation between LIPA's DAWs and the console. 'This allows students to use their DAW automation of choice, but still take advantage of the analogue signal path and summing if they wish to,' Thornton says. 'In workflow terms, it took the students a bit of readjusting to get used to the new console and GenesysControl format, but once that was dealt with, they found it very straightforward and are getting on very well. It's important to us that students experience the whole range of console/surface paradigms, from straightforward analogue to fully digital, to large format DAW control surface and to hybrid approaches like the Genesys and Duality, because this is what they will experience once they leave LIPA and start working in commercial facilities.
'Having the factory so close at hand is great,' he adds. 'When we first started looking at options the folks at AMS Neve were very helpful and welcoming, showing us around the factory and letting us have a really good play with the consoles in their demo area. And when we finally went ahead, they patiently answered all of the boring detailed queries that cropped up during the install process.'
Although the acoustics and PMC monitoring system were not changed, the refit did involve stripping back and renewing floor and wall finishes and changing the lighting and studio furniture. Adding the new console was the main part of the upgrade and this was done to ensure students have access to the most up to date technology incorporating the latest techniques and trends.
See also:
More: www.ams-neve.com