Since their debut album in 2001, Potato have secured their place among the most admired of Thailand's rock bands. The recent two Potato Magic Hours concerts were a testament to this popularity, with thousands of fans coming together at the Impact Arena, Muang Thong Thani – the second largest exhibition and convention venue in Asia – where an L-Acoustics K1/K2 system brought the magic to life.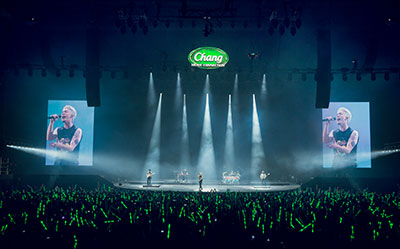 For Potato Magic Hours, Thai A/V rental company MediaVision (1994) was chosen to provide the PA system – with more than 20 years' experience, the company is one of the top rental firms in the Asia market.
'Although the venue is popular for concerts and live shows, the acoustics were a major concern,' says Chief System Engineer, Prasobporn 'A' Sornkrasin. 'Retractable seats cause long diffusion at low frequencies, while a ring of VIP rooms with glass panels causes major mid frequency reflections.'
With the last rows of seats placed at 21m above the ground and with approximately 80m throw, the team was excited to use an L-Acoustics system with Potato for the first time and see what a difference it would make to their sound in the venue.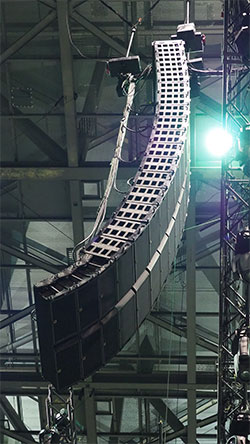 L-Acoustics Soundvision 3D modelling software was used to ensure the system would provide uniform coverage throughout the venue. The final design comprised two hangs of 14 K1 with three K2 and two K1SB stage left and right, with additional 16 KS28 subs groundstacked per side. Out fill was from two hangs of 12 K2, with front fill of six Kara spaced evenly along the curve of the stage lip. The system was powered using 36 LA12X amplified controllers safely stored inside LA-Rak II touring racks for maximum drive flexibility and power.
'Throughout my years of working at MediaVision, I have experienced many different brands of PA but none has impressed me more than L-Acoustics,' Prasobporn Sornkrasin says. 'Since we acquired the K1 in May 2018, I have been thrilled and excited every time we use it.
'We have done countless shows in this venue, but I am very impressed by the result this time,' he continues 'The Cx Cardioid Extended configuration preset works incredibly well, to the extent that you actually don't believe the KS28 are turned on when you are sitting at the monitor console area.'
FOH Engineer Wuttichai 'Buen' Apiwat concurs: 'This was my first gig with the world-renowned K1 and I felt the pressure at the same time. Besides being homogenous throughout the entire arena, which was something I had not experienced in this venue before, I was particularly impressed with the KS28 system, which is totally insane.'
The KS28 with the new extended directivity cardioid preset (Cx) ensured that everyone on stage, and off the stage in the console monitor position, could benefit from a plug-and-play solution that ensured greater rear rejection.
Both shows were a huge success, with Potato rocking thousands of ecstatic fans with one of their best ever performances: 'Thanks to MediaVision and L-Acoustics, this is one of the best mixes I have done for a long time and definitely the best in this arena. K Series system is an extremely powerful solution.'
More: www.l-acoustics.com