Among Northern Ireland's most successful systems integrators/sound hire companies, Belfast-based Niavac has invested in a Yamaha Rivage PM7 digital mixing system. 'We used Yamaha digital mixers from the beginning,' says Events Manager Steve Corr. 'Our first mixer was an LS9 and our inventory went on to include M7CL, PM5D, all three CL series mixers and smaller analogue boards for conference work.'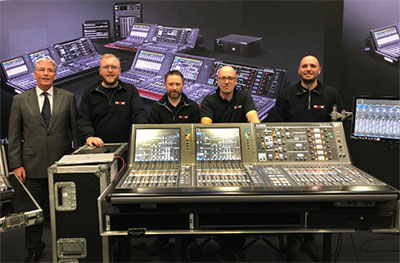 With its former flagship console becoming 'a bit dated', it was time to invest in a more rider-friendly board: 'We looked at a number of options and Rivage PM7 was the obvious choice,' Corr says. 'All of our engineers – indeed most engineers – are familiar with the Yamaha control surface, so the PM7 was also the easiest transition up to a premium mixing system. The sheer amount of buses and the way they can be used, the sound quality, the amount of EQs, the Premium Rack and the way that we can insert effects and send them any way we want were also huge points in its favour.'
Niavac purchased the system from regular supplier, Liverpool-based Adlib Audio. The purchase included a follow-up training session for the Niavac audio team and the company's regular freelance sound engineers, which took place in December.
'From our previous experience with Yamaha, we knew the backup would be good,' says Niavac MD, James Conlon. 'We held an open day in the warehouse, where we put the Rivage PM7 system, a CL5 and a CL1 on a Dante network. Tom could start the training at the CL5 level and we were able to go on and have some quite advanced Dante network training. Both Tom and Reece were very complimentary about our facility, I think they were a little surprised at how good it is.'
One of Corr's challenges is mixing an annual tour with the Cross Border Orchestra Ireland (CBOI), a not-for-profit orchestra for 12-24 year olds, which provides performance opportunities and high-quality musical training. The annual Peace Proms tour is an arena-sized production featuring the orchestra and a choir of up to 5,000 members. The 2020 tour kicked off in January with a sell-out show at the M&S Bank Arena Liverpool, where Steve was pleased that Rivage PM7 allowed him to mix all the production on one surface.
'With drums, bass, guitar and keyboards in the middle of the orchestra – as well as pipers, drum corps and Irish dancers – it's a difficult show to mix, with 30-40 open microphones for the choir alone,' he says. 'Previously I mixed it on a pair of CL5s, using one for the orchestra and routing a stem to the second board, where I mixed everything else. With Rivage PM7 and its massive bus count, I can mix multiple orchestra stems on one surface and its features makes it the ideal system for this production.
'My normal process for any big show like this is first to group all the orchestra into subsections, bounce those down into the four main sections, add gain and rough levels, then I go back and apply EQ. One thing that immediately struck me about the PM7 system was that I had to do a lot less corrective EQ, because it sounds so good out of the box. Vocals are also cutting through extremely well, it means there is very little work to make it sound the way I want, which is a big time saver as well as improving the audience mix. The client was immediately very pleased with the sound of the orchestra, even before any real soundchecks got underway.
'We're very happy with the console,' he adds. 'Everyone who has used it loves the functionality and the sound quality is outstanding. We now have a flagship system that has become an industry standard and we look forward to it having the longevity of the PM5D.'
More: www.yamahaproaudio.com