Allen & Heath's 20-year partnership with Viennese rockers Wiener Wahnsinn has seen the British mixer manufacturer provide audio support to a band that perform around 120 gigs each year – from local shows to some of the biggest open-air festivals across Europe. Freshly equipped with a dLive C3500 and an SQ-6 for FOH and monitors, Wiener Wahnsinn recently wrapped up their Doppelt oder Nix (Double or Nothing) tour, where the new systems were deployed for the first time.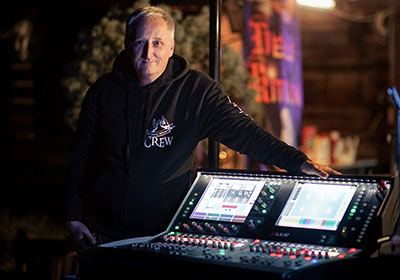 Having previously toured with an iLive T112, technical director and FOH engineer Tom Deimbacher oversaw the move: 'The band decided to stay in the A&H family as the mixers are the easiest things to use,' he explains. 'The dLive interface is so well designed, and I love being able to route whatever I want to wherever I want. Plus, they sound amazing.'
Supplied by Austrian distributor ATEC Pro, the band also purchased a DM0 MixRack with a gigaAce Dante card (fitted in the dLive surface for virtual soundcheck and multitrack recording), and two DX168 expanders for additional I/O.
The band needed a compact system that could be adapted to meet the demands of any gig situation: 'We needed the system to be as flexible as possible, ensuring the utmost quality for the audience, while keeping our sound engineer happy by providing him with the best possible tools to do his job,' the say. 'We have quite demanding requirements when it comes to sound and monitoring, and so far, Allen & Heath mixers have been the only ones to deliver literally everything we want and need.'
More: www.allen-heath.com