Sound Designers Nevin Steinberg and Jessica Paz sought a 'haunting, hopeful and powerful' audio experience for the Broadway musical production Hadestown, from singer-songwriter Anaïs Mitchell and director Rachel Chavkin. They found the audio solution they were looking for with theatrical sound reinforcement and installation specialist Masque Sound.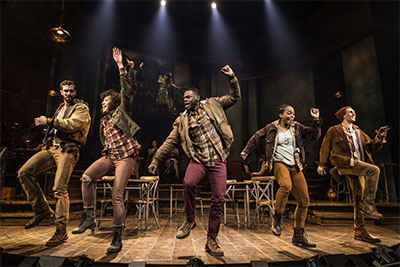 Hadestown intertwines the tale of young dreamers Orpheus and Eurydice with that of King Hades and his wife Persephone, taking its audience on a hell-raising visit to the underworld. Inspired by traditions of classic American folk music and vintage New Orleans jazz, Mitchell's melodies and poetic imagination pit nature against industry, faith against doubt, and love against death.
One of the goals in designing the sound for Hadestown was to honour Chavkin's desire to create a concert-like feel. This made the audio equipment selection vital. At the heart of the custom equipment package provided by Masque Sound was a DiGiCo SD7T audio console, which was specifically chosen by the designers. 'I love DiGiCo in terms of usability,' says Paz. 'The SD7 with T software is a desk I know well – I know how it performs and it offers some unique features to the theater market in terms of understudies and the ease of programming.'
To further create the concert-like vibe, microphone selection was extremely important. The duo chose a combination of DPA 4066 Omnidirectional Headset Mics with backup DPA 4061 Miniature Omnidirectional Mics for the actors and DPA's 4099 Instrument Mics for the band. 'I greatly appreciate the discreet profile of DPAs,' adds Paz.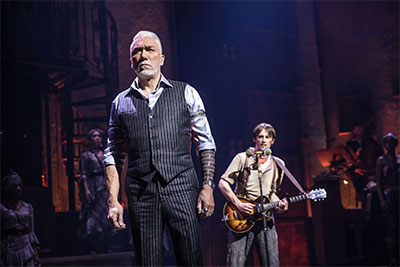 'The 4061s were easy to add to the 4066 rig as a live backup, and the 4099 Instrument Mics allowed us to keep a clean look on-stage by eliminating the need for microphone stands. In addition, the 4099 is simple to attach to instruments and provides superior audio quality. To further capture pristine instrument sound, we placed a 4061 inside of the housing of the piano and it sounds so full and beautiful. Accompanying mics from Shure, Sennheiser and AKG all helped create the sound we were looking for.'
For loudspeaker selection, Steinberg and Paz chose a PA system that features Meyer Sound Leopard arrays. Paz finds the Leopard's precision and headroom ideally suited for live theatre. The designers complimented the Leopard arrays with Meyer Sound UPQs, Alcons Audio VR5, VR8 and VR12 for delays, and d&b audiotechnik E3 speakers, E5s and E6s for stage monitoring.
Since opening to critical acclaim and selling out nightly, the show has earned eight Tony Awards, including Best Musical and Best Original Score and a Grammy Award nomination for Best Musical Theater Album. For their collaboration on Hadestown, Steinberg and Paz earned a Tony Award, a Drama Desk Award, and a nomination for Best Sound from the Outer Critics Circle Awards.
'Nevin Steinberg and Jessica Paz are the best in the business and all of us at Masque Sound look forward to supporting their creative vision,' says Masque Sound Director of Sales, Scott Kalata.
More: www.MasqueSound.com