Prague's Klub Letka has installed a Martin Audio BlacklineX Powered loudspeaker system in readiness for its forthcoming programme of live theatre and music, and movie nights.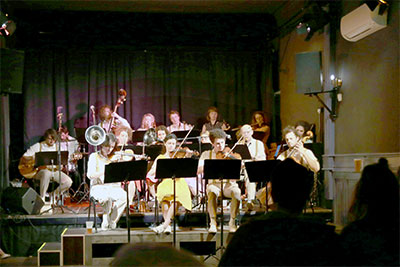 According to Program Manager Jirka 'Jiri' Hes, the venue, the site was formerly a dedicated puppet theatre and later turned into a acting school theatre. 'But we wanted to deliver a broader scope of performance and arts, including folk, alternative and jazz, to a wider public, so refurbishing the place and installing a professional sound system was essential.'
The BlacklineX Powered system, comprising four Blackline XP12 loudspeakers and a single Blackline XP118 subwoofer, was equal to the venue's budget and immediately exceeded expectations. 'I love the richness of the sound as well as the system's ability to clearly reproduce the entire frequency range, even when set up to a very quiet level,' reports Hes. 'This nice, noiseless and clean sound in no way distorts when the gain levels are increased.
Klub Letka had been introduced to the platform by Larson Haakenstad, who has been assisting Martin Audio as a consultant, specifically on BlacklineX Powered.
'Being little more than a rookie in the world of sound systems I contacted Larson Hakenstaad, a friend of mine from the music field, asking for advice on how to proceed with the budget and the space we had to work with,' Hes explains. 'He was the one who originally pointed me to Martin Audio and BlacklineX Powered, which he strongly recommended, came closest to fitting the description and budget I gave him.
'We were mostly looking for a sound system that would be able to provide good sound for both music and movie screening. We decided to go fully active and digital in order to save space and keep high operability of the whole system. Furthermore, it is very simple to set up and the whole system, paired with a Soundcraft ui16 digital mixer, is super easy and intuitive to use.'
BlacklineX Powered is pitched at applications spanning musicians, music bars and mobile DJs, corporate A/V and houses of worship, and offers optional Bluetooth control, streaming and a built-in 3-channel mixer.
Klub Letka co-owner Martin Martin Hřebačka. who is also responsible for the movie screenings, is also more than happy with Blackline XP, largely because of its versatility.
'We continually receive positive feedback regarding the sound from both performers and audience alike, both groups enjoying its quality and depth,' Hes says. 'Previously, the sound system was virtually non-existent, and so rather than an upgrade we consider this a brand new chapter for the venue, allowing us to bring in performances we couldn't have accommodated previously.'
The system was supplied by Martin Audio Czech Republic distributor, Rock Centrum.
More: www.martin-audio.com