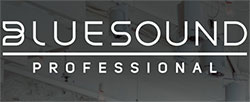 Bluesound Professional has made its first moves toward distribution of its distributed audio ecosystem for commercial spaces in Asia with the appointment of partners in Indonesia and Taiwan.
Since its launch in February 2019, Bluesound Professional has grown its distribution to embrace 15 international markets including France, Germany, Australia, New Zealand, US and Canada. 'As Asia's markets continue to grow and develop, it's key that we have a strong presence there,' says, Vice-President and General Manager, Graeme Harrison. 'The distributors we have brought on board for Indonesia and Taiwan are trusted in the commercial audio space and we view their adoption of the brand as an important step in establishing the brand in the region.'
V2 Indonesia will represent Bluesound in Indonesia. Founded in 1992 and based in Jakarta, V2 Indonesia is an innovator in commercial A/V distribution and integration, carrying the latest brands and technologies.
Known for high standards of technical expertise, Seapower Technology is now Bluesound's agent in Taiwan. The Taipei-based company is a leader in the country's distribution and installation of commercial audio solutions, working with top brands in the industry.