Moving audio for its three Sunday worship services, several weekly services and special events away from an old digital mixer and separate in-ear monitoring system to an Allen & Heath dLive C3500 Surface with CDM64 MixRack and six ME-1 Personal Mixers, the Lake Hills Church is an active congregation in Austin, Texas, has given the church a new lease of life.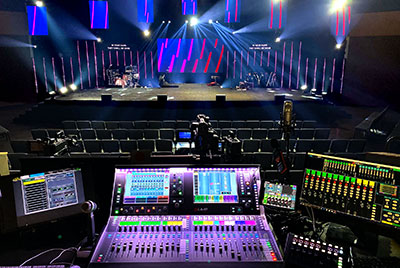 'In our old system, there were multiple platforms for everybody to understand. But, with Allen & Heath, there's a whole family of products that are tightly integrated. And the dLive can do almost anything and still be very user friendly. That makes things much easier for our tech staff and volunteers,' says Worship Leader and Systems Engineer Roger Blevins.
An IP8 Remote Controller adds capabilities for special events and an SQ-7 Digital Mixer travels with the church's mobile worship team. Lake Hills acquired its Allen & Heath products through Diamond Entertainment and The Music People. 'The team is pretty remarkable,' says Blevins of the tech team's efforts. 'And, the dLive and the MEs help them work together seamlessly.'
Lake Hills' engineers use dLive show files and scenes to mix FOH, streaming broadcast and recording worship: 'The more experienced engineers use scenes to adjust compression or EQ or change delay or reverb and they'll do this for different songs or even different sections of a song.' Blevins favours classic Deep compressor emulations including the Peak Limiter 76 and the 16T, along with the Dyn8 Dynamic EQ, a vocal plate reverb and tap delay. 'I'm something of a studio rat and being able to bring this quality of effects and this level of automation to the live world is crazy.'
The dLive sends a post-fader mix to the church's streaming broadcast and another mix to a multitrack recording set-up. Blevins puts selected DCAs and inputs on the IP8 for special events that may feature as many as 20 people on stage and up to 60 input channels of audio including tracks. Band members use the ME-1 personal mixers to manage their monitors. Vocalists use iPads and the dLive OneMix app to mix their wireless in-ears.
'Overall, our experience with the Allen & Heath system has been overwhelmingly positive,' Blevins reports. 'It's a tremendous shift in sound quality and in consistency – between songs, between services, between engineers. And, that's really important in a house of worship.'
More: www.allen-heath.com