When West Country Nub Sound was looking to replace its flagship PA system, researched premier league contenders in readiness for the 2020 Festival season. 'We have been evaluating systems for six or seven months,' confirms Nub Sound system tech, Josh Small. 'We needed to step up to a bigger, eco-system that is also rider friendly and offers ease of rigging. It has to be sufficiently flexible to work in a number of ways, be tourable, perfect for festival use and above all, it has to be a complete system.'
When one of the systems being auditioned was fired up recently for a Sam Fender gig at Plymouth Pavilion, a venue Small describes as 'notoriously challenging', it ticked every box. It was Martin Audio's Wavefront Precision Compact (WPC).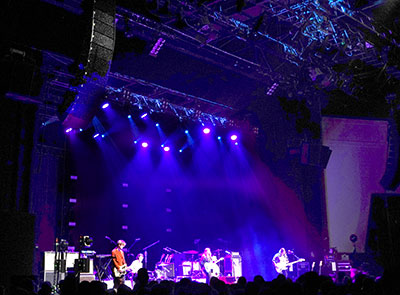 The company, run by directors Adrian Sunderland and Rob Simpson, was already familiar with Martin Audio's signature sound, having run LE1500 wedges in their hire fleet and also installed CDDs over the years. For the company, with facilities in Plymouth and Cornwall, is a versatile operation specialising in rental, sales and installation. While the former division is headed by Simpson, his partner oversees the installation business.
For the Fender gig, Martin Audio provided valuable onsite technical support in the shape of Simon Purse, as Josh Small explained. 'Simon spent a morning showing us Display and VU-Net and then Ben Tucker did the application support, assisting with the set-up.b 'As a result,' he said, 'we were able to make the system sound great. It overcame a lot of the inherent problems of the venue and [Sam Fender's] sound engineer Matt Walch was extremely happy.'
Tucker took care of the optimisations with the WPC run in 2-Box resolution (powered by iKon iK42 amplifiers). The design comprised 12 WPC per side for the 4,000-capacity sold-out show, and Rob Simpson himself mixed support band Brooke Bentham. The top boxes were run in conjunction with 12 SHX218 in a cardioid arced array for coverage in the width. Eight WPM were deployed as front fill and eight ground-stacked for out fill.
'At the rear of the balcony is a hard back wall and the sound reflects back and slaps the lead singer in the face,' Small explains. 'As a result, you have to run your monitors louder. By using Hard Avoid on the back wall, and reducing the reflections back onstage, the monitoring could be run quieter. There was an audible attenuation on the back wall's hard avoid area and it sounded great.'
It had a cascading effect, he says: ' There was still a great sound at the back of the balcony – the best I've ever heard – with the best rejection on the back wall.'
Another benefit of WPC, he said, was that it allowed them to stay within the weight limit. 'There is only a single point half-ton weight limit at the Pavilion but because WPC is so light we could comfortably run a 12-box hang. This was a big advantage,' Small confirms. 'Also we had restricted load-in time which meant we had to deploy the PA quickly; the WPC rigging allowed that and it gave us more time to work on the optimisation and not on the load-in.'
A further positive comment was in respect of the MA rack. 'This was also nice, and there was a DX4.0 system controller at both ends of the multicore, all run down Dante straight into the amps. The system sounded one of the most natural I'd ever heard … unprocessed and open. It doesn't sound digital at all.'
More: www.martin-audio.com