Audio source separation specialist Audionamix and monetisation company Stemit have struck a long-term partnership to licence exclusive rights to Audionamix's most advanced artificial intelligence (AI) music stemming algorithms for record labels, publishers and music distributors to Audionamix.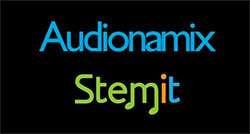 Audionamix's AI separation technology automatically separates songs into stems, including a cappella, backing tracks, drums, bass and remaining music. Stemit's SaaS platform, Maverick, provides a comprehensive ecosystem that covers stem management, distribution and monetisation, all of which allows content owners and creatives to tap into new revenue opportunities for their music.
Content owners can now have stems created directly from two-track stereo masters without the need for recourse to the multitracks. This enables rights owners to participate in revenue generated from existing and new use cases, including offering instrumental versions of their original masters for karaoke; delivering stems for synch placement, remixes, immersive and interactive audio experiences; and as part of mobile and social media apps. These solutions drive new ways for consumers to experience content while increasing exposure for artists and rights holders.
This partnership combines Audionamix's technical expertise with Stemit's extensive expertise in the music industry. With more than 15 years of experience, Audionamix offers the highest quality AI stems through proprietary technology. Stemit's team includes former top executives from Billboard, Dubset Media and Universal Music Group who are driven to build a future for music that benefits both the fans and those who create the songs they love.