Bluesound Professional has announced the appointment of ten representatives to serve Canada and the United States for its distributed audio ecosystem for commercial spaces. The announcement establishes visibility for the brand in the North American commercial A/V market and marks an important step for its global developemt.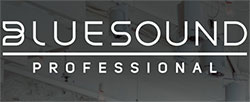 'According to industry association Avixa, the North American market for streaming media, storage and distribution in the commercial sector will be worth $20bn in revenues this year,' says company VP and General Manager, Graeme Harrison. 'Therefore, it was imperative we brought on the best manufacturer's representatives to build the brand in this market to capture some of that value with our unique audio distribution solutions.'
The representatives in Canada comprise BG Media Solutions in Ontario, MM Technologie in Eastern Canada and Connect West in Western Canada. For the US, Bluesound has appointed Audio Associates (Delaware, District of Columbia, Maryland, New Jersey, New York, Eastern Pennsylvania, Virginia), Bormann Marketing (Arkansas, Illinois, Iowa, Kansas, Louisiana, Minnesota, Missouri, Nebraska, North Dakota, Oklahoma, South Dakota, Texas, Wisconsin), Griffith Sales (Alabama, Georgia, Mississippi, North Carolina, South Carolina, Tennessee), Holloway Sales (Indiana, Kentucky, Michigan, Ohio, Western Pennsylvania, West Virginia), Layer 8 (Northern California, Hawaii, Northern Nevada), Northmar Inc (Alaska, Idaho, Western Montana, Oregon, Washington) and RT Sales (Floria, Puerto Rico).
Now available in some of the world's most lucrative markets for commercial A/V, including France, Germany and Australia, Bluesound Professional is continuing to seek distributors in international markets interested in representing a first-to-market, state-of-the-art technology.