Among the world's largest and established audio hire companies, São Paulo-based Gabisom Audio Equipment has made a major investment in Outline's Newton FPGA loudspeaker system processor.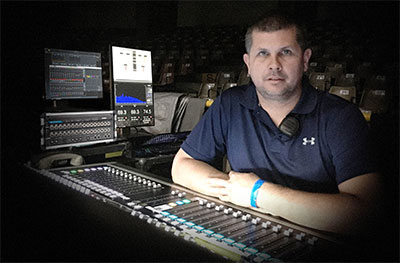 Over 35 years, owner and founder Gabi Ferreira has steered the company through many changes, building a multi-disciplinary operation employing 300 people that works in concerts, musical theatre, corporate events, fixed installations, tours and sporting events. Amongg much else, Gabisom is the audio provider for all the various Rock in Rio events worldwide and for the Rio Carnival, which attracts 2m visitors daily. Gabisom is also the go-to choice for international artists touring Brazil.
Outline's Newton processor's package of features has made it an valuable tool to audio providers globally, being used with sound systems from every major manufacturer. Gabisom's latest investment in this technology extends an initial purchase made in mid-2019 and means that the company now has the largest Newton inventory in the world.
'We can now have the festival matrix desks plus the festival desk with videos, DI and MCs without problems,' says Gabisom Senior System Technician, Eder Moura. 'Also, 16 outs with tons of processing power is amazing, and last but not the least the Smaart integration is amazing.
'Newton is the way to go now in the digital world,' he continues. 'In a single rack space unit we can do a lot. We use our Newtons as system management, summing desks on festivals and output control for the system, linked via Dante to feed delay towers. Also, Newtons solve the clock sync issue when combining with different digital audio sources - that's the best thing in the world. Also the EQs are so precise and smooth with their phase response.
'We recently supplied a 360º stadium show for a corporate event, feeding AES out for eight hangs of Martin MLA with MLX subs and MLA Compacts as front fill. For the delays on the upper level we connected a second Newton via Dante and sent another four outputs via Dante for 12 hangs of L-Acoustics K2. Elsewhere at Shawn Mendes' concert we had the Newton receiving LR, Sub and Front Fills from their system and matrixing the signal for 270º stadium hangs of Martin MLA, MLX subs and MLA Compacts for front fill, plus seven hangs of L-Acoustics K2 hung on the stadium roof doing the upper levels, again fed via Dante from the Newton.
'At Rockfest we used the Newton to matrix in LR from four desks plus sub and front, some on AES, some via analogue, plus the festival desk with video and MCs in on the aux input. The Newton AES outputs fed a d&b audiotechnik DS10 to drive the GSL main system and out fills with SL subs and Vs as front fills plus four delay towers of ten d&b Js each.'
Gabisom's latest investment comes shortly after Outline appointed a new distributor – São Paulo-based Audio Systems is one of Brazil's most respected pro-audio distributors, handling numerous world-class brands.
'This important new order was achieved thanks to Audio Systems' excellent reputation and professional on-site support,' says Outline Business Development Manager, Fernando Rey Méndez. 'The company's commercial and logistical expertise is of significant value in our relationship with Gabisom.'
More: http://newton.outline.it