German fibre-optic network specialist Optocore has appointed Dusseldorf-based United Brands GmbH (United B) as its new German distributor.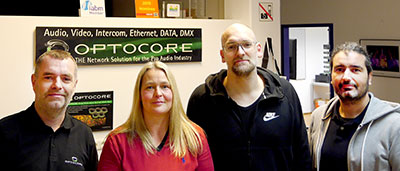 According to Optocore Director of Sales & Marketing Tine Helmle, the move was a logical one: 'With the expansion of our product portfolio such as Festival Box, AutoRouter and our Madi series United Brands was a perfect match. Due to their expertise and long-time experience in install and live events they bring huge potential in placing Optocore as the main sound distribution network on the market.'
United B's Jens 'Bubbes' Steffan will largely oversee the Optocore account: 'Of course, we were familiar with Optocore technology through our distribution of DiGiCo [digital consoles], so it was a small step to contact Optocore. The company has a lot of very interesting products, which perfectly match our customers' demands.
'We think Optocore is the only really professional solution for transporting audio in the digital domain. Based on our high standards with DiGiCo and Adamson, it is a perfect fit with all our other brands.'
He anticipates a positive response from the professional live market, including installation, festivals, theatres and 'anywhere that flexibility and high-quality sound quality are essential'. The potential will be both as part of package with DiGiCo systems or as stand-alone Optocore systems with Festival Boxes or AutoRouter.
United B has wasted no time in getting started. Having already received formal Optocore training they have purchased a demo system and stock comprising Festival Box Petit, AutoRouter, DD32R-FX, DD4MR-FX and X6R-FX in different versions.
'We will use all of these options to create awareness,' Steffan concludes. United B will be systematically introducing clients to the new portfolio, with key dates at the Hamburg Open 2020 (22-23 January) and United B Winter Summit (28-29 January 28-29) marked for further exposure.'
'This is the start of a new chapter for us in Germany, and one that offers exciting prospects for both parties,' Helmle adds.
More: www.optocore.com