Online digital audio workstation (DAW) Amped Studio has seen a dramatic increase it its potential user-base audience throuhg a deal that sees it partner with the fastest-growing music streaming service in China – NetEase Cloud Music.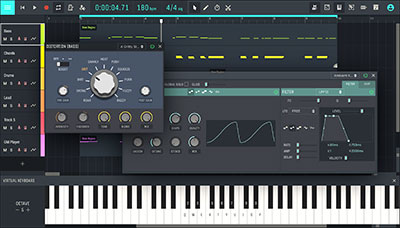 With virtual instruments and sophisticated pitch- and beat-to-Midi features, Amped Studio has brought easy and free music production to millions of end-users. With Spanish and Russian websites for Amped Studio already available, this deal means that Amped Studio becomes a truly international DAW for musicians.
Amped Studio can now look forward to millions of Chinese producers embracing its technology as NetEase Cloud Music is one of the largest music streaming services in China, with more than 800,000m registered users and more than 100,000 independent Chinese artists signed to it.
'NetEase Cloud Music is committed to supporting artists and DJs with a variety of creative tools in its ecosystem, says Amped Studio CEO, Bil Bryant. 'Instant access to a robust online music creation product is our mission, and now millions of budding producers will have that opportunity. We will work closely together to further develop and localise the service and look forward to welcoming so many new artists to the world of Amped Studio.'
'Supporting musicians is part of the NetEase Cloud Music DNA, and providing them access to high-quality music production capability via access to Amped Studio fits perfectly with our goals,' adds NetEase Cloud Music VP International, Mathew Daniel. 'As it is web-based with free entry-level access, there will be no installation barriers, opening up music production to the masses. This will also enable the many podcasters broadcasting their shows via NCM, to easily produce and upload their shows in a convenient manner.'
Amped Studio is a browser-based online DAW, so is not limited to music production on any single computer. It supports recording and playback of audio and Midi content simultaneously on the same track, and also adds virtual instruments and effects, which act just like the VSTs in traditional DAWs. These plug-ins use WAM (Web Audio Module) technology and VSTs can be easily ported over to the WAM standard, as demonstrated by Amped Studio's OBXD and Dexed plug-ins, both based on the Oberheim OB-X and Yamaha DX-7.
Amped Studio also incorporates pitch- and beat-detection technology within its Hum and Beatz features. Users can hum or beatbox ideas straight into the DAW, which then automatically creates MIDI notes and beats. A slew of new additions for the software, to be unveiled in the new year, including remote recording for collaboration, granular synthesis and further Web Audio Modules.
Amped Studio is available on a free subscription that includes the WAM instruments and vocal-to-Midi features. A premier subscription (of US$4.99 per month) secures additional instruments, sounds and audio options. Amped Studio has been developed within the new Web Assembly browser technology and currently runs under Chrome, Vivaldi and Opera, and will eventually work in other browsers as they move to Web Assembly.
More: https://ampedstudio.com